The Mouthpiece
Why Must I Chase the Cat?—Sparrow Decisions Laviolette – Wise Defeats Jenkins
By: George H. Hanson Jr., Esq.
Date:                      Friday, September 8, 2017
Venue:                   2300 Arena – Philadelphia, PA
Promoters:           Peltz Boxing, CES Boxing, BAM Boxing, Raging Babe & Joe Hand Promotions
Coverage:             Comcast SportsNet
Commentators:       Marc Abrams & Mike Mittman
Ring Announcer:   Steve Mittman
Referees:               Ronald Ali Bashir & Benjy Esteves Jr.
Photos:                   www.christoneyphotography.com
"Why must I feel like that? Why must I chase the cat? Nothing but the dog in me!" Now that I have your attention with a few lines from the great George Clinton's 1982 hit "Atomic Dog" we can get down to the business of chronicling another memorable night of Philly boxing—a 10-bout card with five ending early and five going to the scorecards. The eight-round main event featured mercurial twenty-three year-old Philly junior-lightweight Avery Sparrow (7 wins – 1 loss – 0 draws – 3 kos) against four-time Canadian National Amateur Champion—undefeated Joey Laviolette (6 wins – 0 losses – 0 draws – 4 kos) of Nova Scotia, Canada—a twenty-nine year-old who works full-time as a carpenter while pursuing his pugilistic dreams.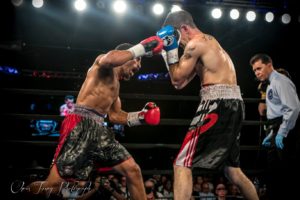 Sparrow (L.) going to work
It was a classic case of the bull versus the matador with the cape being the only thing missing from Sparrow's arsenal and ensemble. The Philly fighter simply out boxed Laviolette using lateral movement, a stiff jab to the pit of his stomach, an overhand right and quick combinations – rarely remaining stationary for his bigger and stronger opponent to land hard punches. It was a masterful performance by Sparrow who was in perpetual motion demonstrating his immaculate boxing abilities never fading, proving that he can execute the perfect fight plan. To his credit, Laviolette came forward unleashing a well-timed right that found the target occasionally. Sparrow was never in trouble and was wise to stop Laviolette forward progress by grabbing him at close-quarters not engaging toe-to-toe – boxing brilliantly from long range for most of the fight.
Boxing is an art and tonight Sparrow was Ernie Barnes with his gloves being the paint brush and the ring his canvas. It was somewhat surprising that one judge scored it a draw 76-76 – a compelling argument for judges being subjected to mandatory eye examination and random drug testing. Fortunately the other two saw it 80-72 and 79-73 respectively – awarding Sparrow a majority decision and his eighth victory.
It is axiomatic that the all-Philly six-round junior-middleweight bout between Isaiah Wise (5 wins – 1 loss – 0 draws – 3 kos) and Fred Jenkins Jr. (10 wins – 4 losses – 0 draws – 3 kos) was going to be a barn-burner. Wise doesn't know how to back up and Jenkins will never back down. Thus, I was certain that these two warriors were going to provide us with more action than is witnessed in a twelve-round bout.
And we were not disappointed. They met in the center of the ring at the opening bell and the action began at a fast and furious pace with both combatants trying to fulfill the undertaker's request—dropping bombs with bad intentions. With less than a minute remaining in the first stanza Wise caught Jenkins with a vicious right uppercut that placed him on the canvas momentarily for the first knockdown. Somewhat shaken, Jenkins was up before referee Bashir reached the count of two and wiped his gloves. The action resumed and Jenkins retreated with Wise in hot pursuit. Wise caught Jenkins with a leaping left hook that sent him sideways into the ropes and back to the canvas. He was up almost immediately and the action continued with them trading toe-to-toe for approximately ten seconds until the bell rang ending the round.
Wise (L.) landing the left jab
They fought at closed quarters in the next round with Jenkins pinned to the ropes with Wise appearing to get the better of the exchanges. Jenkins was winning the third round when Wise hurt him with a murderous hook with thirty seconds remaining and kept the heat on until the bell. Wise got on his toes in the fourth round and out-boxed Jenkins using his jab appearing to be one step ahead of his advancing foe. The last two rounds were action-packed with Wise wining the exchanges and Jenkins refusing to give much ground. In the final round, Wise hurt Jenkins with a hard left hook. Instead of grabbing to clear his head, Jenkins fought back slugging toe-to-toe much to the delight of the fans who cheered wildly to the bell, appreciative of the fighters battling bravely in the best fight of the night. The scores were 60-52, 59-53 and 57-55 all for Wise who was declared the winner by unanimous decision.
In the opening bout of the night, undefeated middleweight prospect LeShawn Rodriguez (5 wins – 0 losses – 0 draws – 4 kos) of Shirley, New York needed just 2:02 of the opening round to devastate and dismiss Fadoul Louis (3 wins – 3 losses – 2 draws – 1 ko) of Melbourne, Florida in a scheduled four-rounder. With his promoter, Kathy Duva – Main Events, perched at ringside, Rodriguez used a stiff jab and combinations to the body to nullify Louis who responded by swinging wildly. It was evident from the onset that this bout wasn't going to make it to the final bell. The end came when Rodriguez careened a left hook off the right side of Louis' head immediately followed by a straight right that landed in the middle of his face—sending him to the canvas, his back landing with a hard thud. Referee Bashir reached the count of eight—as Louis attempted to rise—deciding to call a halt to the bout declaring Rodriguez the winner by technical knockout.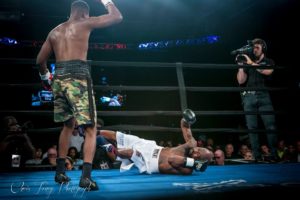 Rodriguez watches as Louis hits the canvas
Junior-lightweight Vinnie Denierio (1 win – 2 losses – 0 draw – 0 ko) of Elmira, New Jersey won a four-round majority decision by scores of 40-36, 39-37 and 38-38 over the more experienced Jae Ho Kim (6 wins – 4 losses – 1 draw – 2 kos) of South Korea now fighting out of the Fast Lane Gym in West Philadelphia. It was an extremely difficult bout to score with the southpaw Denierio sticking and moving using his southpaw jab to offset Kim. The rounds were almost identical with Kim having his moments coming forward and landing to the body and head. I scored it 38-38—a draw.
Super-middleweight Brandon "B-Rob" Robinson (5 wins – 1 loss – 0 draws – 4 kos) of Upper Darby, Pennsylvania is rapidly becoming a fan-favorite. Joining the punch-for-pay ranks last October 1st with no amateur experience, Robinson lost by technical knockout in the third round of the scheduled four-round cruiserweight bout. He has since moved down two weight classes and has reeled off five wins – four of them by knockout. Tonight he wasted no time in dropping Brandon Clark (2 wins – 0 losses – 0 draws – 1 ko) of Columbus, Ohio twice in the opening stanza forcing referee Esteves to end the festivities at 2:07 – awarding Robinson the victory by technical knockout.
Robinson came out of this corner throwing bombs at Clark who attempted to keep him at bay by jabbing. A combination sent Clark to the canvas early in the round. The fallen fighter was up almost immediately and the action resumed. Robinson smelled blood in the water and wasn't going to accord his opponent the luxury of finishing the round on his feet. Two leaping left hooks sent Clark into the ropes where he was trapped and Robinson landed a right uppercut to his body capped off by left hook that reintroduced him to the canvas. Referee Esteves immediately stopped the bout because there was little chance of Clark recovering.
Robinson (L.) launches the left hook
In a bout featuring debuting middleweights, nineteen year-old amateur standout Omar Kabary Salem of Brooklyn, New York out boxed thirty-three year-old Leon DeShields of North Philadelphia, winning a unanimous decision 40-35 on all three scorecards. With his trainer/father—former super-middleweight title challenger Kabary "The Egyptian Magician" Salem—in his corner, the teenager boxed brilliantly putting his opponent in survival mode early – winning all four rounds. The bearded and awkward DeShields – a dead ringer for legendary singer Marvin Gaye – managed to make it to the final bell despite facing a boxing prodigy and prospect.
Boxing is a vicious sport and young fighters without proper management will oftentimes find themselves in precarious detrimental positions. The person who encouraged twenty-one year-old junior-middleweight Ishmael Altman (0 wins – 0 losses – 1 draw) of Arapahoe, North Carolina to sign a contract to face undefeated hard-punching Elijah Vines (4 wins – 0 losses – 0 draws – 4 kos) of Philadelphia should be tarred and feathered and hung on a lamppost. Altman made his debut on the June 2nd card at this venue. He was awarded a four-round draw in a bout that I thought he won. Thus, it made absolutely no sense for him to share the ring on short notice with hot-prospect Elijah Vines who had knocked out all four of his opponents. Altman was brought in as a replacement for Roque Zapata who couldn't fight due to an injury. Maybe Altman's trainer, Don Turner doesn't care, is clueless or both. Or given his contentious history with Vines' trainer Reverend Elvin Thompson, Turner probably thought that he could out-coach the Philadelphia clergy who guided 80's middleweight contender, Frank "The Animal" Fletcher. Nevertheless, anyone who witnessed Altman's debut and saw Vines in action, knew that this match-up was simply a case of the Christian being thrown to the young lion. Altman had little or no chance of defeating Vines.
There is a huge disparity in punching power between the two combatants. Altman is an excellent boxer with decent power. Vines is a better boxer with dynamite in both mitts. Managed by Dave Price and Doc Nowicki, the twenty-one year-old Philadelphian has all of the requisite ingredients to be a great fighter. And he blasted Altman in the opening round, dropping him twice with overhand rights, beating him all over the ring from pillar to post having many of us in press-row yelling for referee Bashir to stop the one-sided fight. Somehow, Altman made it to the bell and back to his corner where the ringside doctor stopped the bout. Vines was declared the winner by technical knockout at 3:00 of the first round of the scheduled four-rounder.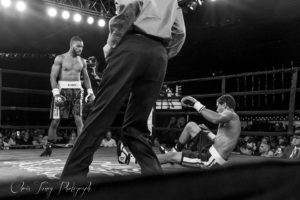 Vines watches as Altman goes to the canvas
Altman, his nose dripping blood made the lonely walk back to the dressing room defeated and discouraged. It is time for Altman to leave Turner and North Carolina and head back to his hometown of West Palm Beach, Florida – take some time off before resuming his career with a manager or someone who will guide him instead of using him as cannon fodder for rising prospects. The kid has potential and can develop into an excellent professional. But, his career will end quickly if he continues to be overmatched.
It appears that the Fat Lady is clearing her throat, signaling the end of the line for Osnel Charles (11 wins – 17 losses – 1 draw – 1 ko) of Atlantic City, New Jersey. Having lost nine of his previous ten bouts it was somewhat troubling to witness Charles laying on his back comatose compliments of an overhand right by hard-punching Marcel Rivers (2 wins – 0 losses – 0 draws – 1 ko) of North Philadelphia in the final stanza of their scheduled four round welterweight bout..
Charles, who joined the punch-for-pay ranks as a junior-lightweight back in 2009 and competed for most of his career as a lightweight, was undersized for tonight's fight against the much bigger Rivers who debuted last December as a junior-middleweight. But, despite the size disparity the courageous and confident Charles used his experience and ring savvy to out-box Rivers arguably winning at least two of the previous three rounds heading into the final round. Charles used his jab, lateral movement – slipping and sliding – high stepping –entertaining the fans as Rivers appeared to be one step behind. It was an adroit performance by Charles much to the amazement of press-row. Nevertheless, Rivers was closing the gap and many of us sensed that at some point he was going to unleash something vicious.
In the final round, Rivers came out with a sense of urgency attacking, forcing Charles to the ropes. Trainer Fred Jenkins must have told him that he needed a knockout to secure victory. He kept his foot on the gas not allowing Charles much room to outbox him as was the case in the previous rounds. As Charles was retreating, River threw a perfectly timed overhand right that crashed off Charles' chin sending him toppling backwards – knocked out before his back touched the canvas. Referee Estevez immediately signaled an end to the bout as the ringside physician made his way into the ring. Fortunately, Charles was able to be revived and made it to his feet after a few minutes. Rivers was declared the winner by knockout at 1:41 of the fourth round. It is time for Charles to retire from professional boxing.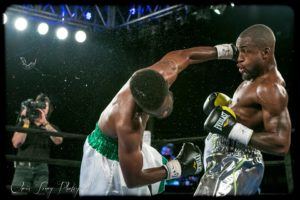 Rivers (R.) steps back after landing the knockout blow
Undefeated junior-welterweight Julian "Hammer Hands" Rodriguez (15 wins – 0 losses – 0 draws – 10 kos) of Hasbrouck Heights, New Jersey led a boxing clinic, displaying his wares – using his speed, footwork and quick combinations to out-box tough and resilient Dario Ferman (14 wins – 2 losses – 0 draws – 11 kos) of Juarez, Mexico. Rodriguez was in the driver's seat from the onset and it appeared that he was using the scheduled six-rounder as a tune-up for a future fight. Ferman was never in danger of getting knocked out. However, he couldn't match his opponent's hand and foot speed and was oftentimes missing with punches. Rodriguez swept the first five rounds. In the final round Ferman connected with an overhand right high on the side of Rodriguez's head that momentarily discombobulated his equilibrium. But, instead of seizing the opportunity and following up with a hailstorm of punches, for some inexplicable reason Ferman backed up and issued an apology by reaching out and tapping Rodriguez's glove believing that he had committed a foul. It was a missed opportunity and it could have determined the outcome of the fight. Ferman would win the round but lost the bout. All three judges scored it 59-53 for Rodriguez who won by unanimous decision.
Eighteen year-old junior-welterweight prospect Victor Padilla (3 wins – 0 losses – 0 draws – 3 kos) of Vieques, Puerto Rico fighting out of Berlin, New Jersey was impressive in a scheduled four-rounder against thirty-four year-old veteran Javier Garcia (8 wins – 15 losses – 2 draws – 3 kos) of San Juan, Puerto Rico. The southpaw Padilla dominated Garcia in the opening stanza using the jab and taking a two-step drop backwards to gain separation to reload and blast the advancing veteran with a one-two combination. Padilla dominated Garcia hitting him with everything in his arsenal. Garcia came forward but he was out-gunned and out-maneuvered. A millisecond after the bell sounded Padilla launched an overhand left that caught Padilla squarely on the chin sending him to the canvas. Garcia was out cold. The punch wasn't an intentional foul but it was after the bell. However, boxing is still in the dark ages and without the benefit of instant replay. The bout should have been ruled a no-contest because Garcia was unable to continue due to an unintentional foul. The referee should have been closer to the boxers at the 10 second mark to avoid this outcome. However, referee Bashir declared Padilla the winner by knockout at 3:00 of the opening round.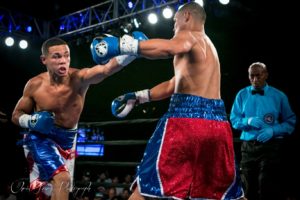 Padilla (L.) counters with the straight left
It was another great night of Philadelphia boxing enjoyed by the capacity crowd.
Bow-wow-wow-yippie-yo-yippie-yeah Bow-wow-yippie-yo-yippie-yeah Bow-wow-wow-yippie-yo-yippie-yeah Bow-wow-yippie-yo-yippie-yeah
Continue to support the sweet science, and remember, always carry your mouthpiece!
ghanson3@hotmail.com