Las Vegas, NV (September 2017) – Canelo vs. GGG is the best announced fight since the August 26 spectacle, but on paper, and in the ring, Canelo vs. GGG can be and will be the best boxing match since 1981 Leonard – Hearns I.
Rarely, do two fighters meet in their prime, but on September 16, 2017 at the T-Mobile arena in Las Vegas, NV Saul "Canelo" Alvarez 49-1-1 (34 KO's) and Gennady "GGG" Golovkin 37-0 (33 KO's) will meet to crown the IBF, IBO, WBC, and WBA Middleweight Champion, determine Middleweight Supremacy, and they will also definitively, determine who is the "Mythical P4P" Champion."  This one really is for all the marbles.
Here is cboxinginfo's official scouting report and prediction for the Canelo vs. GGG Mega fight:
SCOUTING REPORT:
Saul Alvarez "Canelo"    49-1-1 (34 KO's)
5'9″
Middleweight
Orthodox
Reach 72
   Guadalajara, Mexico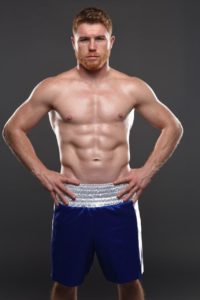 Canelo is possibly the most recognizable face in the sport of boxing.  Since turning pro in 2005 at the age of 15, he has done nothing but leave a trail of destruction.  15 of his first 20 wins were by KO.  He fought to a draw in his fifth fight with Jorge Juarez.  The only blemish on his record is a 2013 loss to Floyd Mayweather Jr.  Since the defeat, Canelo has run off seven straight wins against notable opponents Alfredo Angulo, Erislandy Lara, James Kirkland, Miguel Cotto, and Miguel Cotto.  He has had career defining victories over notable names Shane Mosley and Austin Trout.
Canelo is a come forward boxer puncher with a very good boxing IQ.  He works the body to set up shots, can jab, has good power in both hands, throws excellent combinations, and has heart and toughness.
While Canelo is a well-rounded fighter, he has problems with speed and movement as evidenced in both the Mayweather Jr, and Lara fight.  Amir Khan gave Canelo fits over 3 rounds before finally being put to sleep in the 6th round of their 2016 match up.
Defensively, Canelo gets hit often. While his chin seems good, the verdict is still out because he has never been hit by a true 160 pound middleweight.  Yes, Angulo and Kirkland were good tests, but both had seen better days 2 yrs before their respective fights with Canelo.  Cotto was too light in the ass to compete with Canelo, so no, that wasn't a test.  Add in light hitting opposition like Alfonso Gomez, Josesito Lopez, Matthew Hatton, and Liam Smith, and you honestly don't know how Canelo's chin will hold up against the big boys.
On the real, Canelo has done exactly what he was supposed to do to his opponents.  Except for the runner Lara, Canelo has impressively dispatched of his foes in all of his winning performances.  Golden Boy Promotions lines them up and Canelo consistently knocks them down.  In that respect, you can see why he is the most popular fighter in the world.  Canelo challenged Mayweather Jr, and now he is facing the GGG challenge.  What's not to like?  The baby face Mexican with the cinnamon hair has balls of steel, and that is why fans love him.
SCOUTING REPORT:
Gennady Golovkin "GGG"    37-0 (33 KO's)
5'10"
Middleweight
Orthodox
Reach 70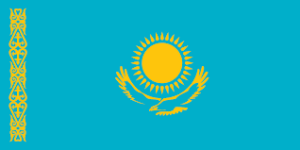 Karaganda, Kazakhstan
GGG is arguably the most feared puncher in the sport of boxing.  The 2004 Olympic Silver medalist has nasty power in each hand.  He hits you with a left jab, and you can go bye-bye.  He hits you with a left hook, and you might be sleep before you touch the canvas.  All forbid, if he touches you with a right hand, game over.  GGG is that powerful.
GGG turned pro in 2006, and only 4 of his 37 wins have gone the distance.  His last fight with Daniel Jacobs was the first time since 2008 (24 fights) GGG did not win by a stoppage.  The other three decision wins on his record were all in 2007 or 2008.  GGG had been knocking folks out for 9 years, so no wonder he is feared.
GGG likes to stand in front of his opponent, and force a fight.  He has an extremely high boxing IQ.  He can and will cut off the ring to force you to fight toe to toe, and he doesn't mind taking a few shots to give a few harder shots.  While he eats some punches, his defensive skills are underrated.  He moves just enough to avoid big shots, but he can get into range to deliver.  He proved this against the very talented Jacobs.
The only knock (s) against GGG is the level of opponent he has faced and his speed.  GGG is slow! At times he looks like he is laboring in the ring, but it is the way he moves. Until Jacobs, which was his toughest fight to date, he has fought a list of small bodies and fringe nobodies and that includes Curtis Stevens, David Lemieux, Willie Monroe Jr, Marco Antonio Rubio, Matthew Macklin, and Martin Murray.   They are all real competitive against one another and tough fighters, but not exactly anything better than B- level fighters.
Like Canelo, GGG has done what he was supposed to and just win all of his fights. While he has been hit, his chin seems like granite and he loves to fight.  GGG is the real deal!!
PREDICTION:
Canelo vs. GGG will go into the late rounds.  Both fighters fight going forward, so fans will be on the edge of their seats from the opening bell to the last bell.  High fives between rounds will flow like water from both the Canelo fans and the GGG fans.  There will be insanely intense moments when Canelo fans worry, and GGG fans worry.  In the end, boxing fans will win, because this will be the best fight in over 30 years.
Canelo will be comfortable, because he will not have to chase GGG.   GGG will be slobber knocker happy, because Canelo will be a "Good Boy" and fight.  Canelo will throw and land combinations that will raise the hair off the skin of his fans everywhere.  GGG will take shots but land on the machismo Canelo. For 9 to 10 rounds, they will blast away at each other.  In the end, GGG's body work, size, power, and pressure will be too much for an always late fading Canelo.
Our pick, GGG by 10th or 11th round TKO in what will be the fight of the decade.
Follow us on social media @cboxinginfo  and Facebook @ChrisWilliamsCboxinginfo
By Chris Williams
Photo Credits to GoldenBoy Promotions