By: George H. Hanson Jr., Esq.
Date: Saturday, January 28, 2017
Venue: 2300 Arena – Philadelphia, PA
Promoter: Victory Boxing Promotions
Ring Announcer: Henry "Dis-com-bob-u-lating" Jones
Round Cards: Samantha Cruz & Ruby Martinez
Referee: Shawn Clark & Eric Dali
Photos: Darryl Cobb Jr
"We may have all come on different ships, but now we're in the same boat" stated ring announcer Henry Jones—quoting Dr. Martin Luther King Jr.—in his opening monologue— referring to the divide created by our former reality show host who shockingly is the 45th President of the Unites States of America. It was great seeing Jones—one of the best announcers in the history of professional pugilism—back in Philadelphia. Boxing has always provided much needed respite from the sometimes harsh realities of life. Thus, tonight's show hosted by Jones and the two gorgeous round card ladies, Samantha Cruz and Ruby Martinez, provided comfort from the shenanigans of newly elected President Donald John Trump who garnered much protest during his visit to our beloved city on Thursday for a three-day Congressional Republican meeting and his signing of an Executive Order on Friday banning citizens from seven majority Muslim countries from entering the US for at least 90 days. To say that Trump is polarizing is tantamount to claiming that Usain Bolt is fast.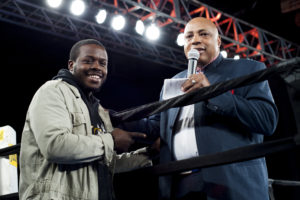 (L-R) Greg Hackett and Henry Jones.
Philadelphia is firmly on the bandwagon of Phenom, 19 year-old welterweight Jaron "Boots" Ennis (8 wins – 0 losses – 0 draws – 7 kos) who has been labeled as "Can't Miss" – a surefire world champion – the next great fighter in the city's rich boxing history. Thus, fans cheered raucously as Ennis and his entourage led by his father/trainer Derek "Bozy" Ennis made their way into the squared circle for the main event. Elvin Perez (28 wins – 16 losses – 4 draws – 19 kos) of Nicaragua now fighting out of Pahokee, Florida—who had entered the ring earlier to LL Cool J's 1990 hit "Mama Said Knock You"—waited patiently in the blue corner.
The supremely talented Ennis' ring walk lasted longer than the scheduled six rounder. Referee Clark gave the instructions and the combatants retreated to their respective corners for the bell. The gong sounded and Ennis pressed the action working behind his jab. Perez tried to counter and Ennis bounced a combination off his chin the final punch landing squarely in the bread basket forcing the Nicaraguan to the canvas genuflecting on one knee similar to an NFL quarterback leading the huddle. Perez listened attentively as the referee began the count showing no sense of urgency accepting his fate never moving a muscle as Clark tolled ten declaring Ennis the winner by knockout – 35 seconds of the opening stanza. Perez was in trouble the day he signed the contract and was fortunate to exit the bout without suffering any serious damage.
Ennis (L.) watching Perez go to the canvas

In an egregious mismatch super-middleweight Darren Goodall (3 wins – 0 losses – 0 draws – 2 kos) of New Milford, New Jersey blitzed debuting Gary Hudson of Chicago, Illinois at the opening bell of their scheduled four-rounder. Hudson resembled a novice fighter lacing on a pair of gloves for the first time as Goodall landed to the head and body having Hudson reeling for the majority of the opening round. Hudson didn't belong in the ring with Goodall who used him for target practice. The end came in the second round after Goodall drilled him with several body shots and a vicious right hand that had referee Clark showing compassion and ending the one-sided affair at 1:30. Goodall was declared the winner by technical knockout.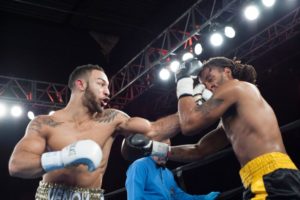 Goodall (L.) connects with the left hook.

Hungarian junior-middleweight Zsolt Daranyi Jr. (9 wins – 0 losses – 0 draws – 9 kos) fighting out of Toronto, Canada stopped the ever evasive Lenwood "Mr. Composure" Dozier (10 wins – 15 losses – 2 draws – 5 kos) of Suitland, Maryland at 2:11 of the second round of their scheduled six-round bout. The knockout was somewhat surprising because Dozier is a defensive wizard who is adept at evading hard shots with shoulder-rolls, slipping and disappearing at odd angles. The opening round was uneventful as Daranyi came forward and Dozier jabbed, slipped and rolled for three minutes. The second round was shaping up in similar fashion until Daranyi uncorked a hard left hook and a short right hitting Dozier on the chin sinking him to the canvas on one knee where he stayed for referee Dali's ten-count.
Daranyi (R.) connects with the right

Undefeated Philadelphia junior-featherweight and full-time police officer Emmanuel "Major Pain" Folly (8 wins – 0 losses – 0 draws – 6 kos) was simply sensational in his scheduled six-rounder with Carlos "Gallito" Morgan (13 wins – 4 losses – 0 draws – 6 kos) Baja California, Mexico. Folly came out at the opening bell landing his jab to the head and midsection of Morgan stalking him resembling a mini version of the legendary Tommy "The Hitman" Hearns. Folly's punches were fast with much power and precision. Morgan tried to return fire but was hurt early with a counter left hook that was the precursor to his demise.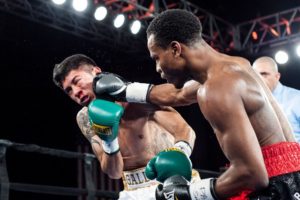 Folly (R.) connects with the right
Folly punished Morgan with the jab, landing combinations at will as his opponent was unable to match his hand speed. Morgan attempted to throw combinations but Folly would beat him to the punch every time careening shots off his dome almost closing his left eye which was a carmine slit one minute into the fight. It was a one-sided affair with Folly putting an exclamation point on his performance landing a short left hook that sent Morgan to the canvas on his back – his head bouncing off the canvas forcing referee Dali to immediately call a halt – declaring Folly the winner by knockout 2:28 of the opening round.
Undefeated junior-welterweight twenty-one year-old Carlos "El Tiburon" Sanchez (11 wins – 0 losses – 0 draws – 10 kos) of Baja California, Mexico defeated Somner Martin (6 wins – 3 losses – 0 draws – 4 kos) of Martinsville, Maryland by technical knockout at 2:16 of the third round of their scheduled six-rounder. There was much action in the first and second rounds as Sanchez landed the occasional right hand and Martin countered with the jab. However, Sanchez hurt Martin with a left hook in the third round and poured it on relentlessly for about twenty seconds throwing and landing every punch from his arsenal forcing referee Clark to waive off the action and raise his hand in victory.
Sanchez (L.) connecting with the right uppercut

The long-awaited debut of amateur standout Brandun Lee of Coachella, California was the opening bout. Signed by boxing manager extraordinaire Cameron Dunkin, the seventeen year-old high school senior whose father is Korean-American is expected to fill a void due to the paucity of Korean fighters. Most important, he is a puncher scoring many knockouts in his 181 wins – 9 loss stellar amateur career littered with many national championships.
In their scheduled four-round welterweight bout Lee didn't waste much time in disposing of Christopher Johnson (0 wins – 3 losses – 0 draws) of South Bend, Indiana. Lee attacked at the opening bell and Johnson was more than willing to engage in a shoot-out. But, you can't bring a sling-shot to a gun fight hoping to win when your adversary is carrying a bazooka. No surprise when the bigger Lee hurt Johnson with a left hook and followed up with a combination that deposited him on the canvas. Johnson was able to get to his feet as referee Clark reach the count of five and motioned for the action to resume. Maybe Johnson should have stayed down for the ten-count because he graced the canvas for a second time as Lee blasted him with another left hook followed by a vicious right cross – the referee negating the count and immediately calling a halt at 1:33. Lee was declared the winner by knockout.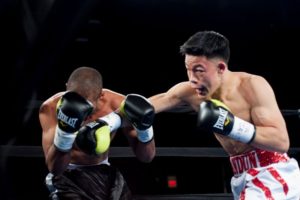 Lee (R.) lands the right cross

Philadelphia junior-lightweight Donald "No Love" Smith (3 wins – 0 losses – 0 draws – 2 kos) lived up to his moniker stopping the fleet-footed Christopher Nelson (1 win – 2 losses – 0 draws – 0 kos) of Louisville, Kentucky – winning by technical knockout at 1:11 of the final round of their scheduled four-rounder in the battle of southpaws. Smith pressed the action as the awkward Nelson motored around the ring looking like a gloved preying mantis more focused on avoiding punches than dishing out punishment. Occasionally Smith cornered Nelson and unloaded a few vicious body shots forcing his adversary to clutch before mounting his bicycle to survive the onslaught.
Smith (R.) connecting with the right hook

Midway through the third stanza Smith sent Nelson to the canvas with a right hook to the body. Never dissuaded or disturbed, Nelson was up as referee Dali reached the count of six – got on his bicycle and survived until the bell. Smith found pay dirt again in the fourth round with a few body shots that sent Nelson to the canvas for the second time. The fallen fighter was up at seven and Smith seized the moment landing several more shots forcing the referee to rescue Nelson and raise Smith's hand in victory.
It was another exciting night of boxing in the City of Brotherly Love. Victory Boxing Promotions is a welcome addition to Philadelphia's esquisite boxing quilt. Kudos to our hosts, Henry "Dis-com-bob-u-lating" Jones and the round card ladies. Seven fighters in the red corner – six undefeated and one making his debut – were all victorious by knockout or technical knockout. Victoria en la esquina roja!

Continue to support the sweet science, and remember, always carry your mouthpiece!!

ghanson3@hotmail.com