By: George H. Hanson Jr., Esq.
Date: Saturday, November 12, 2016
Venue: The Liacouras Center, Philadelphia, Pennsylvania
Promoters: DSG Promotions & King's Promotions
Ring Announcer: Ray Flores
Referee: Shawn Clark, Benjy Esteves Jr. & Gary Rosato
Coverage: Spike Sports – Premier Boxing Champions
Host: Dana Jacobson
Commentators: Bruce Beck, Jimmy Smith, Antonio Tarver & Keith Thurman
Photos: www.christoneyphotography.com
It is inaccurate to accuse Philly gladiator—WBC welterweight champion Danny "Swift" Garcia (32 wins – 0 losses – 0 draws – 18 kos) of cherry picking or taking the path of least resistance. Garcia built his career on defeating heavy hitters Kendall Holt and Lucas Matthysse and out-boxing those gifted in the art of the sweet science such as Zab "Super" Judah, Paulie "The Magic Man" Malignaggi and Lamont Peterson. Thus in the post-fight interview when WBA champion Keith Thurman made a claim that Garcia had cherry-picked Samuel Vargas (25 wins – 2 losses – 1 draw – 13 kos) by way of Colombia now fighting out of Toronto, Canada whom he had just stopped in the seventh round, Garcia retorted "You are a cherry because I picked you!" referring to their March 3, 2017 unification bout. Thurman had struck a nerve with the Philly fighter and was caught off-guard when Garcia verbally shoulder-rolled and countered beautifully turning the tables.

Garcia (R.) landing the jab.
Tune-up fights are commonplace in boxing. There should be no surprise that Garcia— who hadn't graced the squared circle since capturing the vacant WBC welterweight belt by unanimous decision over Robert Guerrero on January 23rd—needed a few rounds with a formidable opponent in preparation for Thurman. Thus, Vargas found himself in tonight's ten-round non-title bout—the opportunity of a life-time in front of a national television audience.
Garcia made his way to the ring led by NBA Hall of Famer—Philly Legend—"The Answer"—Allen Iverson decked out in military style camouflage jacket, black beanie, sunglasses and enough gold around his neck to purchase a small villa in Jamaica. The late, great Mr. T is smiling in his grave. The near-capacity crowd cheered wildly as Iverson with two of Garcia's belts crisscrossed against his chest led the champion who had an exquisite mask covering his face into the ring. Philadelphia loves its fighters and Iverson's intestinal fortitude exhibited on the hardwood floor puts him in the conversation with the great Smokin' Joe Frazier.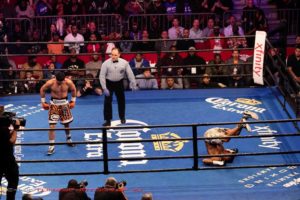 Garcia walks to the neutral corner.
Garcia got down to business in the opening round countering with hard left hooks and overhand rights whenever Vargas came in with quick combinations. He stood his ground and unloaded with power sending a message that this fight wasn't going to go the distance. The action continued in the second round with Vargas pressing the action and Garcia circling and unloading with the heavy artillery as Vargas jabbed and pecked away with shots that had no effect. It was obvious that there was a huge disparity in power. With approximately eighteen seconds remaining in the round Garcia countered Vargas with a devastating overhand right that smacked him square on the left side of his face sending him to the canvas somersaulting eventually landing in a crouching position. The ringside triumvirate of Al Haymon's front-man Sam Watson, Iverson and rapper Meek Mill rocketed out of their seats in unison as the punch landed. Vargas got to a standing position as referee Rosato reached the count of nine, dusted his gloves, check his vitals and beckoned for the action to resume as the bell sounded concluding the round. Vargas made it back to his corner with a gash on his left cheek compliments of Garcia's overhand blast.
Vargas' trainer and Philly resident Billy Briscoe went to work in the corner revitalizing his fighter and instructing him. Vargas recovered and held his own in the next few rounds despite Garcia bouncing overhand rights off his chin. For some inexplicable reason, Vargas kept his left hand low susceptible to Garcia's overhand right that landed consistently. When Garcia wasn't landing the right – his left hook found a home on the right side of Vargas' head.
A knockout was inevitable as Garcia was hell-bent on sending a message to Thurman perched at ringside in an immaculate blue tailored suit showing his sartorial splendor providing the sound bites with the commentating team. He hurt Vargas again in the fifth stanza with another thudding overhand right. It was clear that Vargas had nothing to dissuade the champion from launching bombs in an attempt to put him to sleep.
The end came in the seventh round with Garcia pinning Vargas on the ropes unleashing a few left hooks and overhand rights with the referee stopping it as Briscoe climbed upon the ring apron to wave the white towel of surrender. The fight was over and only Vargas' heart and iron chin allowed him to make it this far. It was simply a case of Garcia being too skilled, too experienced and too powerful for the strong-willed and courageous Colombian.
In an entertaining 10-round light-weight bout—the winner guaranteed a shot at a junior-lightweight title— former WBA junior-lightweight champion Javier Fortuna (30 wins – 1 loss – 1 draws – 22 kos) of the Dominican Republic now fighting out of Braintree, Massachusetts squared off against Delaware's undefeated Omar "Super O" Douglas (17 wins – 0 losses – 0 draws – 12 kos).The opening round determined the course of the remainder of the fight. There wasn't much action in the first minute of the round as both men jabbed and circled. However the southpaw Fortuna opened up and attacked—after the pedestrian first minute—with reckless abandon—total disregard for Douglas' pugilistic prowess and punching power. Fortuna came forward and unleashed to the body and head and Douglas blocked and countered.
Douglas (R.) sends Fortuna to the canvas.
At the two-minute mark, as Fortuna was attacking, Douglas countered with a vicious left hook sending him to the canvas, referee Clark reaching the count of three as Fortuna made it to his feet and cleared his head. He was able to survive the round as Douglas attacked trying to close the show.
The opening stanza was a wake-up call for Fortuna who was ahead on the scorecards when he lost his title on June 24th – getting stopped in the 11th round by Jason Sosa of nearby Camden, New Jersey. The Dominican would fight with more intelligence and less bravado as he used his speed and angles to box Douglas at a distance instead of throwing punches with no regard for his opponent's boxing abilities. Douglas worked behind his jab cutting off the ring as Fortuna moved in and out landing and disappearing, tying up whenever he was close.
Fortuna made it an ugly fight by holding and hitting whenever Douglas tried to fight on the inside. He wasn't going to allow the dread-locked Douglas to unleash any power punches and reintroduce him to the canvas or end the fight. Referee Clark warned both combatants throughout the bout for rough tactics – holding or placing elbows to the throat.
But fighters are creatures of habit and Fortuna closed the show by attacking Douglas— throwing caution to the wind and bombing away for most of the 10th and final round— forcing Douglas to bob and weave to evade getting hit with anything of consequence. When it was over the judges had it 96-93 twice and 95-94 all for Fortuna who won by unanimous decision. It was a learning experience for Douglas who will be a better fighter. I doubt if he will ever allow another fighter that he places on the canvas to survive a round with almost a minute remaining.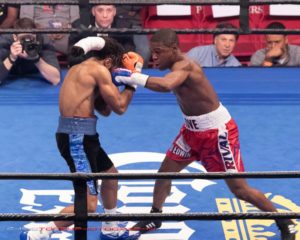 Fortuna (R.) landing the left hook.
In the opening bout of the night Jeffrey Torres (1 win – 0 losses – 0 draws – 1 ko) of Philadelphia resembled the second-coming of Puerto Rican legend—three-division world champion—Felix "Tito" Trinidad in his four-round lightweight bout with debuting southpaw Joseph Serrano also from the City of Brotherly Love. Torres never took a backwards step—marching forward— raining down punches—baiting Serrano in heated exchanges out-punching and out-landing him. Referee Clark missed what should have been a knockdown as Torres connected with a straight right and a left hook to Serrano's head that forced him to squat as the gong sounded ending the round.
Torres continued his attack in the second stanza bombing away at Serrano who showed his mettle by fighting back refusing to surrender despite being under heavy fire. Torres poured it on until the final bell. Serrano was over-matched for his professional debut. No surprise that one judge had two rounds 10-8 for Torres returning a scorecard of 40-34 with the other two judges scoring it 40-36. Torres won a unanimous decision in a one-sided match. But, Serrano for showed his Philly toughness and heart by fighting to the end.
Junior-middleweight Jarrett "Swift' Hurd (18 wins – 0 losses – 0 draws – 12 kos) of Accokeek, Maryland was impressive in disposing and dismissing former IBF world welterweight title challenger Jo Jo Dan (35 wins – 3 losses – 0 draws – 18 kos) of Montreal, Canada at 1:08 of the sixth round of their scheduled ten-rounder. Hurd is a far-cry from the fighter who on December 5, 2014 almost put the audience to sleep at Harrah's, Chester, Pennsylvania eking out a majority six-round decision over Emmanuel Sanchez. Five fights later, it is obvious that he belongs with the elite fighters in the junior-middleweight division – a talented boxer who should be closing in on a world title shot.
Hurd had his way with the southpaw Dan who pressed the action but was out-gunned and out-boxed. Hurd shoulder-rolled, slipped and countered with hard hooks and sweeping uppercuts that connected frequently. Dan landed when they were at closed-quarters but his punches had no effect on the bigger and stronger opponent. Hurd decided he had used up enough air-time of the televised bout and brought closure to this one-side affair by unloading on Dan forcing his corner to rescue him by throwing in the towel during the sixth round.

Hurd (L.) lands the left hook.
DSG Promotions' junior-lightweight Thomas Velasquez (5 wins – 0 losses – 0 draws – 4 kos) of Philadelphia dominated Paul Chirino (7 wins – 3 losses – 0 draws – 3 kos) of Miami, Florida, pitching a shut-out winning a unanimous four-round decision 40-36 on all three scorecards. The twenty-one year-old Velasquez was the aggressor throughout the fight working behind his jab, raking the thirty year-old Chirino to the body. I thought it would have been over in the third round as Velazquez connected with an array of hard shots from his arsenal. Somehow Chirino not only survived the third stanza but was still standing at the final bell.
Philadelphia featherweight Antonio "The Tiger" Dubose (8 wins – 1 loss – 1 draw – 2 kos) was robbed, hoodwinked and bamboozled in his six-round junior-lightweight bout with undefeated Titus Williams (6 wins – 0 losses – 0 draws – 2 kos) of Long Island, New York.
DuBose (L.) lands the right.
Dubose pressed the action at the opening bell, landing consistently appearing to be in control for most of this action-packed bout. The Philadelphian was the busier fighter who never took his foot off the gas. There were no knockdowns or either boxer getting hurt. But, nevertheless Dubois should have been awarded a unanimous decision. Much to the surprise of press-row the judges had it 59-55 and 58-56 for Williams and 57-57 – a draw.
Middleweight Kyrone "Shut it Down" Davis (10 wins – 1 loss – 0 draws – 4 kos) of Wilmington, Delaware rebounded from his first loss and lived up to his moniker by shutting down and stopping Carlos Gabriel Ozan (12 wins – 1 loss – 0 draws – 4 kos) of Mendoza, Argentina winning by technical knockout at 41 seconds of the third round of their scheduled eight-rounder. On April 19th Davis suffered his first loss getting out boxed by undefeated Junior Castillo who won an eight-round unanimous decision.
Davis was aggressive at the opening bell, hurting Ozan with a straight right as the Argentinian tried to hold on getting wrestled to the ground, referee Esteves Jr scoring it a knockdown. Ozan was up immediately and made it to the bell. He was bombarded in the second stanza as Davis backed him up with hooks to the head and body. Ozan returned fire but Davis was walking down and piercing his defense like a hot knife through butter. In the third stanza Davis landed a hard right upper-cut to Ozan's body and followed through to the head with a left hook, straight right and another left hook sending him spiraling to the canvas. Amazingly, Ozan was up before referee Esteves Jr. could toll the count of four. However, he stumbled forward and the referee had no choice but to bring an end to the fight and declare Davis the winner.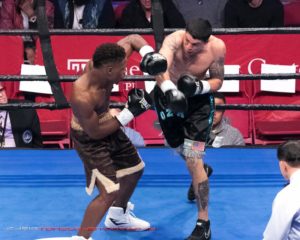 Davis (L.) counters with the left hook.
Undefeated twenty year-old Philly junior-welterweight Milton "El Santo" Santiago (15 wins – 0 losses – 0 draws – 3 kos) captured every round and a unanimous eight-round decision 80-72 on all scorecards over tough veteran Claudio Rosendo Tapia (28 wins – 16 losses – 4 draws – 13 kos) of Mendoza, Argentina. Santiago who needed a special waver from the Pennsylvania State Athletic Commission to join the professional ranks as a 17 year-old in February 2014 has been consistently refining his craft against stiff competition as he matures physically.
Tonight, Santiago was able to adapt and adjust to the 36 year-old wily veteran who had many tricks up his sleeves fighting back never in dire straits of getting knocked out. It was a classic tactical match that will serve Santiago well as he moves up the ranks.
In the final bout of the night Philly bantamweight Christian "The Iceman" Carto (4 wins – 0 losses – 0 draws – 4 kos) who had been visited earlier in the dressing room by Allen Iverson and Meek Mill as a sign of respect for the young fighter didn't disappoint his fans who waited patiently for his scheduled four-rounder against Leonardo Reyes (5 wins – 10 losses – 0 draws – 2 kos) of Tijuana, Mexico.
Carto attacked early working the head and body with hooks behind a stiff jab. Reyes fought back but was no match for Carto. The end came when Carto slipped Reyes's jab and countered with a left uppercut immediately followed by a straight right landing on his opponent's chin sending him to the canvas. Reyes made it to a standing position as referee Esteves Jr. reached the count of seven.
The action resumed and Carto hopped on Reyes like a lion on a wounded gazelle forcing the referee to call a halt at 2:34 declaring the Philadelphian the winner by technical knockout.
Tonight in front of the near-capacity hometown crowd, Garcia displayed his wares in preparation for his March 4, 2017 showdown with undefeated WBA welterweight champion Keith "One Time" Thurman (27 wins – 0 losses – 0 draws – 22 kos) of Clearwater, Florida. Philadelphia isn't sure that Garcia is good at picking cherries, but he has a history of popping them—having defeated nine world champions!
Continue to support the sweet science, and remember, always carry your mouthpiece!
ghanson3@hotmail.com