Las Vegas, NV (November 20) – Fans wanted a close, hard fought, but decisive victory from whomever the victor was going to be.  Well, fans got two out of three as Andre Ward 31-0 (15 KO's) survives to win a close, but highly debatable decision over Sergey Kovalev 30-1 (15 KO's).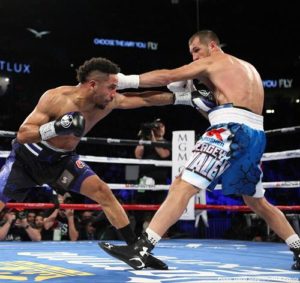 David Spagnolo/Main Events
Kovalev Ward was a pick em fight all the way to the end, and the two warriors did not disappoint as they battled back and forth from the opening bell.  In front of a packed house at T-Mobile Arena in Las Vegas, Nevada and live on HBO Pay-Per-View, Andre "S.O.G." Ward (31-0, 15 KOs)* won a close unanimous decision victory over Sergey "Krusher" Kovalev (30-1-1, 26 KOs) to steal the WBO, WBA and IBF Light Heavyweight World Titles in a decision that most ringside media thought went the wrong way.
Live on HBO PPV and in front of 13,310 fans packed inside of the T-Mobile arena in Las Vegas, both fighters were feeling each other out in the first two rounds. The Krusher continued his come-forward attack and knocked Andre down in the second. Ward managed to get up quickly and took several hard shots from Sergey before the bell rang to end the second round. The next several rounds included heavy shots from both fighters and some wrestling-style moments. The majority of the rounds were hard-fought and close. Many writers had the decision going to the other way but all three judges scored the bout 114-113 in favor of Ward.
After the fight, Andre Ward said, "I was not surprised when I heard the decision I don't know where you got that from. I know it was a close fight. The crowd you can hear they thought I won. I have been a champ before. I knew it was going to be a tough fight. It was the first time in my career I was dropped. He did everything I expected him to do.  He started to show up as I expected.  My coach did a great job. It's hard for me to call myself great. At the end of the day I am a two-weight division champion. Of course I would do a rematch.  I am not going to negotiate a fight right now. I will go home and relax and see what's next."
Sergey Kovalev replied, "It's the wrong decision. I don't want to say my opinion. The witnesses are here; they saw it. It's my job.  It was a fight of my life. I am disappointed in the judges' decision. He got maybe a few rounds; I agree with that. I kept control. I lost maybe three rounds the whole fight. Of course I want a rematch and I will kick his ass. I want to show good boxing. I am against here, it is the USA, and all the judges were from the USA. He is a boxer. It's a sport. Don't make it politics; it is a sport and I won the fight."
Cboxinginfo.com personally gave Sergey three of the first five rounds, but Andre Ward survived the second round knockdown to win rounds six, Seven, eight, eleven, and twelve.  Ward's tremendous body work and rough inside game allowed him to slow down Krusher Kovalev.  Kovalev went from being a smooth boxing attacker, to a hesitant and slowly fading puncher.  So much so, many observers including some of Team Kovalev thought he hurt his right hand.
In the late rounds, a couple of real tells were Ward being able to land multiple bolo shots and Ward's consistent shots to the body that set up jabs and slapping hooks to Kovalelv's head.  Krusher Kovalev avoided those punches early and landed crisp counter shots, but Ward's bodywork made the difference in the end.