Donnie Marshall Falls Short In Battle Of Unbeatens And Is Stopped By Sebastian Fundora In The Third Round Of National TV Debut On PBC On Fox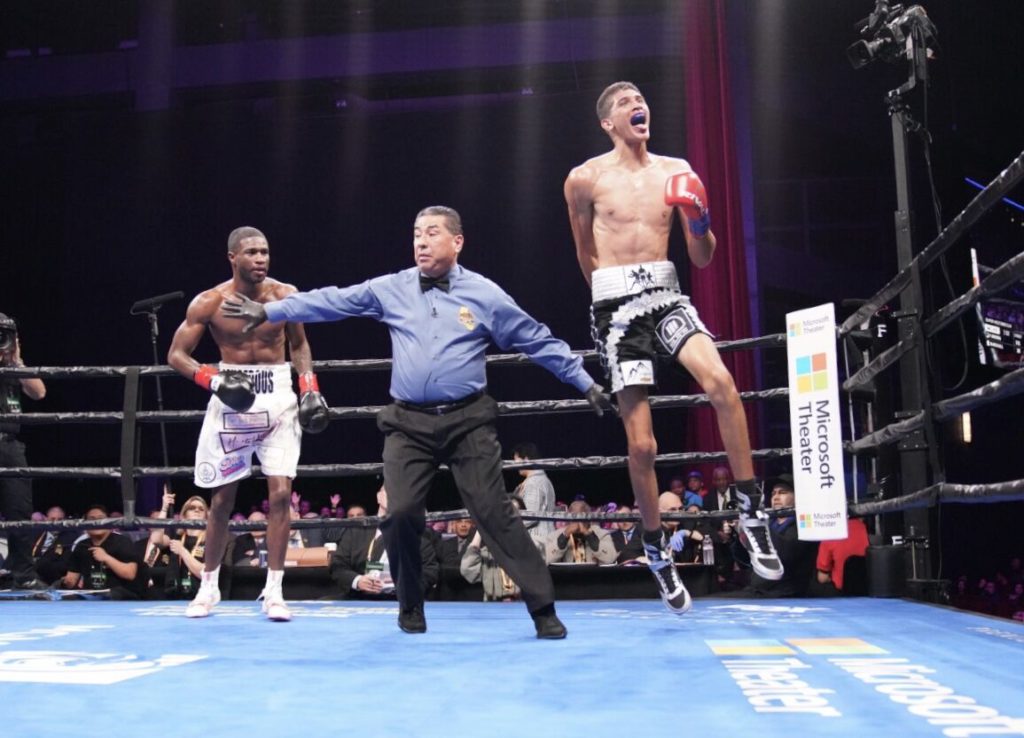 Los Angeles, CA (February 17) – Buffalo, NY native and current Raleigh, NC resident "Dangerous" Donnie Marshall felt more than prepared for his six-foot-seven-inch tall opponent and the pressure to perform in front of a large national TV audience watching the PBC on Fox. Unfortunately, the task was too much for Marshall as he fell short in the battle of unbeaten boxers and is stopped in round three by Sebastian Fundora.
On this night, Fundora 12-0 (8 KO's) was too much for Marshall 10-1 (6 KO's). Fundora used all of his advantages; physical stature, work rate, and power to overwhelm a very competitive Marshall. Marshall tried to get inside of the long arms of Fundora early and had some success rocking his long opponent with a powerful, counter left hook and a whipping counter right hand. But, Fundora was eating the punches and attacking with hard uppercuts that rocked the head of Marshall and moved him out of distance to open up a sustained attack.
"I expected Marshall to go inside and attack the body, but he was trying to box," said Fundora. "Once I figured out that he didn't want to bring the fight, we brought it to him and it went our way."
The southpaw Fundora began to break through in the second round, using a combination of straight left hands and uppercuts to stun his opponent. Marshall was able to land multiple strong straight right hands by countering the charging Fundora, but was not able to keep his opponent from coming forward.
"He was stronger than I thought he was and he's a good boxer," said Marshall. "I thought when I let my hands go I was doing pretty well, but he caught me with a couple good shots. His height wasn't a problem because I was able to get inside and land, but he was able to land more than me."
Early in round three, Fundora landed a sweeping left hook-uppercut combo that connected clean on Marshall and put him on the canvas. Marshall was able to get to his feet, but Fundora saw his opportunity and continued to land a barrage of uppercuts and straight lefts.
Referee Jerry Cantu jumped in to stop the bout at 1:08 of the third round. Fundora was the more effective and accurate puncher, landing 39 percent of his shots, to 26 percent from Marshall, according to CompuBox.
"I want to move up the rankings and get to the top five by the end of the year," said Fundora. "Anything is possible though and maybe we'll be fighting for a title by then. This division has a lot of excellent fighters. I'm going to be ready when the time is right."
Marshall, who in the end was overwhelmed by Fundora's punch output, finished the fight on his feet and vowed to return better than ever. "Tonight wasn't my night, but I will be back better than ever and there will be hell to pay," said a dissappointed Marshall.