The Mouthpiece
What If I Told You?  Carto Decisions Melendez – Conquest Conquers Rosario
By: George H. Hanson Jr., Esq.
Date: September 29, 2017
Venue: 2300 Arena – Philadelphia, PA
Promoters: Marshall Kauffman—King's Promotions
Ring Announcer: Alex Barbosa
Referees: Benjy Esteves Jr. & Eric Dali
Coverage: Eleven Sports
Commentators: Marc Abrams & Rich Quinones
Photos: www.christoneyphotography.com
What if I told you that undefeated Philadelphia bantamweight sensation Christian "The Iceman" Carto (11 wins – 0 losses – 0 draws – 11 kos) knockout streak came to an end on a night he pitched a shut-out—boxing brilliantly to the final bell? Yes, in front of a capacity crowd – most of them decked out in black and gold t-shirts bearing his likeness—Carto was forced to go the distance in the scheduled eight-round main event against iron-chinned Alonzo "El Elegante" Melendez (14 wins – 1 loss – 0 draws – 12 kos) of Chihuahua, Mexico.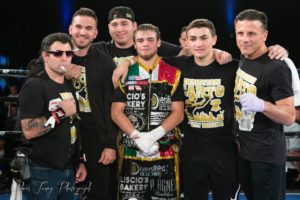 Team Carto (L-R) Joey Eye, Carto, Frankie Carto & Trainer Mickey Rosati
The opening stanza was the traditional "feeling out" round with Carto using his jab and feints to get a proper reading on the tall and rangy Melendez. However, the action heated up in the second round with Carto taking command of the fight firmly in the role of a gloved sniper—using Melendez for target practice blasting him to the head and body with quick combinations—disappearing before the advancing fighter had an opportunity to return fire. It was a boxing clinic taught by Professor Carto who lectured round after round on the finer points of the sweet science with Melendez landing an occasional punch to remind us that he was still in the ring.
Carto was well ahead heading into the final round with the audience on the edge of their seats hoping for the coup de grâce prolonging the knockout streak. With blood trickling from both nostrils, Melendez fought gallantly despite absorbing several hard shots as Carto pinned him on the ropes. But, the man from Chihuahua didn't venture to Philly to be mere cannon fodder. He fought to the final bell surviving constant bombardment from The Iceman who was as fresh as a daisy on an early spring morning in his first eight-rounder. No surprise that Carto won a unanimous decision 80-72 on all three scorecards.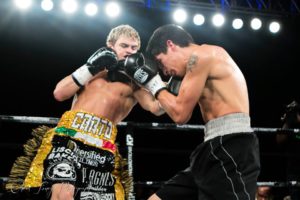 Carto (L.) lands the left uppercut on Melendez.
In an all-Philly matchup featuring welterweights twenty-five year-old Rasheed "Sugar Sheed" Johnson (1 win – 1 loss – 0 draws – 0 ko) wasted no time, making short work of forty-two year-old Demetris Williams (1 wins – 3 losses – 0 draws – 0 ko)—answering the opening bell evoking fond memories of Tommy "The Hitman" Hearns—landing a vicious left hook followed by a straight right sending him to the canvas. Williams hit the canvas like a sack of potatoes and was comatose before he landed. Referee Esteves called an immediate halt declaring Johnson the winner at only 52 seconds of the scheduled four-rounder.
The scheduled six-round welterweight bout between Philadelphia's David Gonzales (8 wins –2 losses – 2 draws – 2 kos) and Darius Ervin (4 wins – 1 loss – 0 draws – 0 kos) of Los Angeles, California ended in a no contest in the second round at 1:53. The opening round was close with Gonzales working behind his jab as the taller Ervin came forward. In the second round a violent clash of heads forced referee Dali to call a halt to the action to examine both combatants. Ervin suffered a slight cut over his left eye and was ready to resume fighting. However, Gonzales despite not suffering any visible damage was unable to continue and his corner informed Dali that he was done for the night. Immediately, Ervin started complaining, yelling at Gonzales and had to be restrained by his trainer. The fight was over and Ervin was mad and made sure that everyone in attendance knew it.
In a scheduled eight-rounder for the World Boxing Foundation Junior North American Lightweight Title, Philly's Jerome "The Conqueror" (8 wins – 2 losses – 0 draws – 1 ko)
squared off against Carlos "Rock Hands" Rosario (7 wins – 2 losses – 0 draws – 4 kos) of Pennsauken, New Jersey. There was no love lost between the two combatants as they bantered throughout the bout. This was Rosario's return bout since suffering a seventh round technical knockout at the hands of lightweight prospect Joshua "Dynamite" Davis in this same ring on May 19th in the eight-round main event. The southpaw Conquest is coming off a June 24th six-round unanimous decision over Jae Ho Kim.
It was a highly spirited bout with Conquest working behind his long, southpaw jab and straight left. Conquest used lateral movement to offset Rosario's forward progress. There wasn't much action in the opening round but Rosario was somewhat busier in the second round – landing a good left hook. Conquest suffered a slight abrasion on his left cheek caused by an unintentional head-butt in the third round which he won by landing more during the exchanges and using his superior speed to beat his nemesis to the punch. The action heated up in the next round with them banging to the bell with referee Esteves giving Conquest a warning for landing after the bell concluded the round.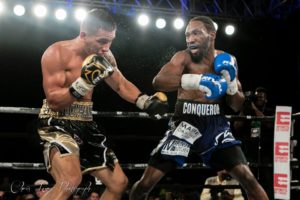 Conquest (R.) lands the right hook on Rosario.
I knew it was only a matter of time before Conquest exploited a chink in Rosario's armor —his guard being wide open to a left uppercut. In the fifth round Rosario walked into a perfectly thrown left uppercut that sent him to one knee as thought he was joining Colin Kaepernick's ongoing protest against racial inequalities. It was called a knockdown as Rosario was able to get back on both feet almost immediately and the referee motioned for the action to restart. Conquest attacked and Rosario landed a hard punch to his groin—arguably the oldest trick in the Bible of Boxing—sending him to the canvas writhing in pain. The referee ruled it an accidental inadvertent blow and Conquest was able to resume fighting after a three-minute respite. The action recommenced and again Conquest engaged in a twenty-second slugfest to the bell.
It was a tactical match for the remaining three rounds with Conquest boxing, getting on his bicycle reminiscent of "The Greatest"—Muhammad Ali—sticking and moving—using his jab, displaying fancy footwork and his ability to stick to the fight plan. With approximately fifteen seconds left in the fight—Conquest decided it was time to close the show and slugged with Rosario until the gong sounded concluding the bout. Conquest was declared the winner 78-73 and 77-74 twice. The new World Boxing Foundation belt was placed around his waist by James Gibbs, WBF North American Vice-President and Greg Hackett Sr., North American Regional Administrative Coordinator.
In the opening bout of the night Maynard "Mr. Marvelous" Allison (9 wins – 1 loss – 0 draws – 6 kos) of Siler City, North Carolina now fighting out of Philadelphia faced upset-minded Juan "The Savior" Rodriguez (7 wins – 7 losses – 1 draw – 5 kos) of Haymarket, Virginia in a six-round junior-welterweight bout. It was Rodriguez who gave undefeated welterweight prospect Nathaniel Rivas his first setback – stopping him in the fifth round of their scheduled six-rounder December 13, 2014 in the same ring. Rivas entered the ring 5 wins – 0 losses – 0 draw – 2 kos. Rivas would get stopped by Kevin Womack Jr, in the first round in his next fight on May 8, 2015 and hasn't fought since.
Allison controlled the action at the opening bell working behind his jabs—left hand at his hip mimicking the Mayweather shoulder-roll—occasionally hooking to the body of Rodriguez who came forward patiently returning fire. Allison changed directions whenever he was close to the ropes showing impeccable timing and a full-understanding of his position in the ring. He won the round and was having similar success in the second stanza when Rodriguez connected with a well-timed overhand right as Allison was retracting his jab. The punch crashed off the left side of Allison sending him face-first to the canvas. Referee Dali reached the count of nine as the fallen fighter reached his feet still on shaky grounds forcing him to call a halt. Rodriguez was declared the winner by technical knockout at 3:00 of round two.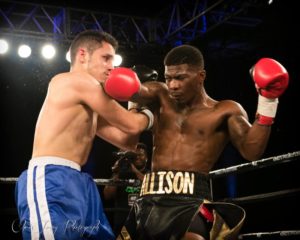 Rodriguez (L.) connects with the overhand right.
Junior-middleweight Anthony "Put 'Em Down" Prescott (6 wins – 7 losses – 2 draws – 2 kos) of Cherry Hill, New Jersey brought his record to .500—winning a unanimous six-round decision 59-55 twice and 58-56 over southpaw Erik Spring (10 wins – 1 loss – 2 draws – 1 ko) of Reading, Pennsylvania in a spirited contest with Prescott simply out-working his opponent in a closely contested match. Prescott took an early lead by out-jabbing and out-landing Spring who appeared to be somewhat bothered by his opponent's unusual rhythm and timing. Prescott is an awkward fighter who has an uncanny ability to deliver punches from unusual ankles. He outhustled Spring and I had him sweeping rounds one through four with Spring coming on strong down the stretch—winning the last two rounds on my scorecard. Prescott appeared tired in rounds five and six as Spring backed him up—landing his jab and a few combinations. It was a good fight and I concurred with the score of 58-56 for Prescott.
What if I told you that Alan Lawrence was once a decorated amateur that was the favorite to make the 2008 Olympic Boxing Team? Lawrence started boxing as a four year-old in 1992 and won so many titles that the only trophy missing from his mantle was an Olympic Gold Medal. One punch turned the course of history as was the case when Jason Escalera left Lawrence on the canvas for over four minutes with an overhand right in the final round of the semi-finals of the 2007 New Jersey Golden Gloves. The talented fighter disappeared from the boxing landscape –a footnote in history – another great amateur who never reached his potential.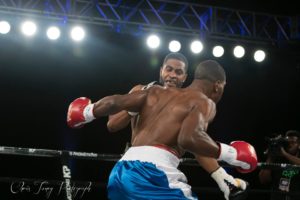 Lawrence cranks up the left hook to land on Shabazz
He would reappear earlier this year— joining the professional ranks—stopping winless Johnny Mitchell in the first round of a scheduled four-rounder on April 27th in Durham, North Carolina. The 6 feet 3 inch light-heavyweight was back after a ten-year hiatus – ready to make his mark. Tonight, he made a quantum leap in a scheduled four-rounder against Philly's Amir "Sharpshooter" Shabazz (4 wins – 1 loss – 0 draws – 1 ko) – a graduate of Indiana University of Pennsylvania.
Lawrence attacked at the opening bell as Shabazz tried to keep him at bay with an educated jab. He pressed the action and they engaged in a heated battle throwing bombs. Lawrence rocked Shabazz with a left hook and followed with another hellacious hook that connected on his chin sending him to the canvas his head under the bottom strand of the ring ropes. Referee Dali immediately called a halt to the action declaring Lawrence the victor by knockout at 1:24 of the opening round as his raucous fans cheered wildly.
Junior-lightweight Roberto Irizarry (3 wins – 1 loss – 1 draw – 0 kos) of Cherry Hill, New Jersey won a unanimous four-round decision 39-37 on all three scorecards against southpaw Bryan Perez Nevarez (2 wins – 7 losses – 1 draw – 1 ko) of Carolina, Puerto Rico in a hotly contested bout. Perez took the opening round primarily because he was able to connect with a hard overhand left that got his opponent's attention. However, Irizarry got his mojo in the second round and hurt Perez with a right then told him to come on and mix it up. Perez was able to recover and vociferously beckoned for him to engage in toe-to-toe combat. The round was close and the bantering continued for the remainder of the fight with Irizarry getting the better of the exchanges.
Philadelphia super-middleweight Brandon "B-Rob" Robinson (6 wins – 1 loss – 0 draws – 5 kos) needed three rounds to solve the awkward conundrum—George Sheppard (1 win – 2 losses – 0 draws – 0 ko) of Norfolk, Virginia in a scheduled four-rounder. Robinson pressed the action in the opening stanza landing to the head and body of Sheppard who used a high-guard defense and weird angles to survive the round. The action resumed in the second round with the heavy-fisted Robinson continuing his attack whacking away at his opponent with heavy artillery. However, Sheppard kept his hands high and returned fire- unafraid and unabashed fighting to the best of his abilities. The third stanza was almost identical to the previous round with Robinson trying to get his sixth stoppage with Sheppard being non-compliant.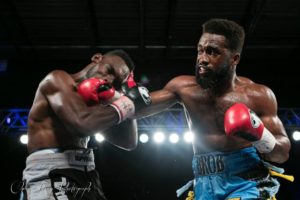 Robinson (R.) connects with a straight right on Sheppard.
In the final round, an accidental head-butt forced Sheppard to the canvas taking a knee complaining to referee Dali who allowed him time to recover. The action resumed after a short respite and Robinson blasted Sheppard with a hard right on the chin—wobbling him sideways into his corner—resembling an inebriated reveler on New Year's Eve. Sheppard was in dire straits and referee Dali saved him from further punishment by calling a halt at 1:20—declaring Robinson the winner by technical knockout.
It was another exciting night of Philly boxing—impeccable matchmaking and great fan support. Christian Carto continues his march towards a world title proving that he simply isn't a knockout puncher—using his boxing skill to box magnificently for eight rounds. It is time for Carto to appear on one of the major networks!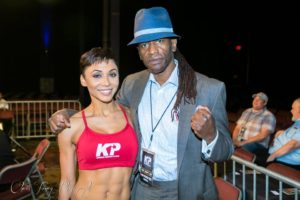 Continue to support the sweet science, and remember, always carry your mouthpiece!
ghanson3@hotmail.com