The Mouthpiece
Oh Bumbo Klaat!—Brunson Stops Woods  Robinson Decisions Brooker
By: George H. Hanson Jr., Esq.
Date:                       December 1, 2017
Venue:                  2300 Arena – Philadelphia, PA
Promoters:              Marshall Kauffman—King's Promotions
Ring Announcer:   Alex Barbosa
Referees:                Benjy Esteves Jr. & Blair Talmadge
Ring Card:               The Queens of King's
Coverage:                Eleven Sports
Commentators:       Marc Abrams & Kermit Cintron
Photos:                   www.christoneyphotography.com
The gravity of the situation caused me to consult the late, great Peter Tosh from the world beyond. One thing that I can't "overstand" is how on the same night Philadelphia—"The Capital of Boxing"—would host two shows—three miles apart. Oh, bumbo klaat! How fortuitous and divisively divine that The SugarHouse Casino—featuring undefeated bantamweight Christian Carto—and 2300 Arena—with knockout artist Tyrone "Young Gun" Brunson in the main event—were both sold out, standing room only, packed tighter than a tin of Grace Jack Mackerel. But, I still don't understand why di ras klaat Manny Rivera, Hard Hitting Promotions and Marshall Kauffman, King's Promotion couldn't agree to move one of the shows to a later date to accommodate the Philly fight fans. Nevertheless, they proved that Philadelphia is truly the epicenter of the sweet science in the universe!
"The Queens of King's" (L-R) Mimi, Kendra & Kiana
The main event—a scheduled ten-rounder for the Universal Boxing Federation International Super-welterweight title—pitted Tyrone "Young Gun" Brunson (25 wins – 6 losses – 2 draws – 23 kos) of Philadelphia against Manny Woods (16 wins – 6 losses – 1 draw – 6 kos) of St. Petersburg, Florida. The hard-hitting Brunson is coming off his monumental victory on June 24th — a fifth-round technical knockout of former IBF welterweight champion Kermit "The Killer" Cintron to claim the vacant Pennsylvania State Junior-middleweight title. Ironically, Woods was stopped by Cintron in the seventh round of a scheduled eight-rounder on September 9, 2016. Supremely confident, Brunson strolled to the ring like a returning war hero with trainer Vaughn Jackson leading the way as Woods waited patiently in the red corner.
The gong sounded and Brunson kept his distance working behind his jab as the shorter compact Woods came forward. It was the traditional "feeling out" round with Brunson landing a hard one-two combination that was absorbed by his adversary. The Philadelphian continued boxing brilliantly in the second round, jabbing circling and countering with his opponent marching forward landing occasionally to the body. However, Brunson controlled the tempo and pace of the fight. It was a tactical match with Brunson out-boxing Woods who just appeared to be one step behind. It was a valiant effort by the Floridian but the night belonged to the hometown fighter who displayed his boxing abilities making a statement that he belongs with the best in his division.
Round after round he dominated, buckling Woods with a hard right on top of his head in the fifth stanza, and again in the sixth round. Somehow, Brunson didn't follow up and Woods managed to make it to the seventh round. Oh bumbo klaat!
Brunson (L.) lands the right uppercut
With his right eyes swollen and closing rapidly, Brunson rocked Woods in the seventh round with a left hook and straight right. However, Woods despite the bombardment remained upright still coming forward showing his mettle, fighting courageously unabashed and unafraid. Brunson turned up the heat in the eighth round, blasting Woods with an angled right around his high guard, pinning him to the ropes dominating the action. Almost at the bell to end the round, Brunson connected with a vicious right that sent Woods stumbling into this corner. Referee Esteves made his way over to Woods corner where the fighter proclaimed that he was tired, unable to answer the call to begin the next round.  Oh bumbo klaat! Thus, Esteves called a halt to the fight declaring Brunson the winner by technical knockout at 3:00 of the eighth round and new Universal Boxing Federation International Super-welterweight champion. Oh ras klaat!
In the most anticipated fight of the night—a scheduled eight-rounder—Christopher "Ice Cold" Brooker (12 wins – 4 losses – 0 draws – 5 kos) of Philadelphia squared off against Brandon "B-Rob" Robinson (7 wins – 1 loss – 0 draws – 6 kos) of Upper Darby, Pennsylvania for the vacant Universal Boxing Federation ("UBF") All America Super-middleweight title. Robinson owns an amateur victory over Brooker who has made a name for himself by defeating two highly-touted undefeated prospects Leo Hall and John Magda and perennial contender Elvin Ayala. It is a huge step-up fight for Robinson who was facing a pugilist with twice the amount of fights and twelve victories which equals the combined wins of his previous eight opponents. Coming off a loss in his last fight on July 18th —a second-round technical knockout at the hands of undefeated light-heavyweight prospect Ahmed Elbiali—Brooker and his new trainer Octavia Pineda had much to prove. They waited patiently in the ring as Robinson and his entourage made their way to the ring with rapper DMX's raspy voice blaring over the sound system on his 1998 "Ruff Ryder's Anthem."
Stop, drop, shut 'em down, open up shop
Oh, no
That's how Ruff Ryders roll
Stop, drop, shut 'em down, open up shop…
It's conceivable that the gamesmanship of Robinson's trainer Rashad Brown got the best of Brooker whom he called "one-dimensional" at the press conference. The Philly fighter answered the opening bell working behind his jab instead of attacking in his traditional blitzkrieg fashion. It was a close round as both fighters stayed on the outside jabbing and hooking. Brooker had a slight edge primarily because he was busier. The tide turned in the second stanza as Robinson used his superior jab keeping Brooker at bay – landing with frequency – as the bout became a chess match. For some inexplicable reason, Brooker remained on the outside instead of forcing the fight at close quarters as was the case in his three trademark wins.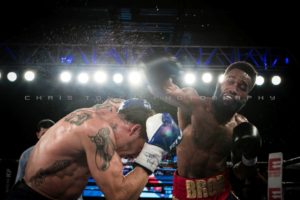 Robinson (R.) launches the right as Brooker ducks
There was little or no in-fighting as Brooker attempted to out-jab and out-box Robinson at long range. Robinson controlled the fight with his jab round after round. In the fifth stanza, he opened a nasty cut above and below Brooker's left eye with a vicious overhand right. Oh bumbo klaat! The cut started bleeding profusely as Brooker wiped his eye with his glove and made it to his corner where cutman Moe Morales worked his magic because the cut never became a factor in the outcome. Amazingly it never bled much.
Robinson changed strategy and attacked at the opening of the sixth round coming forward in hope of opening the cut. Brooker stood his ground and boxed on even terms despite losing a close round. However, he was able to garner the seventh round on my scorecard by landing an overhand right – the hardest punch of the stanza. Robinson closed the show – edging Brooker in the eighth round as he boxed behind his jab appearing to complete his first eight-rounder in good shape with plenty of energy. The judges scored it 80-72, 79-73 and 78-74 all for Robinson who won a unanimous decision and the Universal Boxing Federation ("UBF") All America Super-middleweight title.
Oh bumbo klaat, in his ninth fight of 2017, supremely talented twenty-year-old Philly welterweight prospect Jaron "Boots' Ennis (16 wins – 0 losses – 0 draws – 14 kos) would close out the year with the well-traveled and rugged George Sosa (15 wins – 10 losses – 1 draw – 15 kos) of Reading, Pennsylvania in a scheduled eight-rounder. It was a safe bet that Sosa wasn't going to make it to the eighth round and the final bell. Ennis came out blazing Sosa to the body and head with straight rights and hooks, switching to the southpaw stance. Sosa landed a stiff straight right while stepping on Ennis' lead foot causing him to slightly stumble. However, his success was short-lived as Ennis regained control and took the round.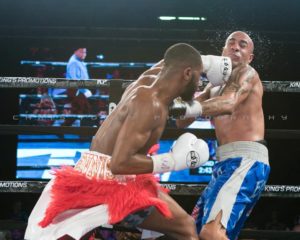 Ennis (L.) lands the straight left on Sosa
Early in the second stanza, Ennis introduced Sosa to the canvas with a well-placed body shot that had him take a knee as though he was genuflecting before Mass – rising as referee Talmadge tolled eight. The action resumed and Ennis fighting from the southpaw stance connected with a murderous left uppercut immediately followed by a right hook again sending Sosa to the canvas where he was counted out by the referee. Ennis was declared the winner by knockout at 1:09 of the second round – scoring his fifteenth knockout – looking forward to moving up the ranks in 2018.
Lightweights Gerardo Martinez (1 win – 0 losses – 0 draws – 1 ko) of Coatesville, Pennsylvania and Christopher Burgos (0 wins – 1 loss – 0 draws) of Philadelphia, Pennsylvania waged war for four frenetic rounds with the fans cheering wildly as they landed every conceivable punch from their arsenals. The gong sounded for the opening bell and they threw punches with bad intentions. There was a total disregard for defensive strategy in this old-school barroom rumble. It was an extremely difficult fight to score with a draw being the optimal call. Two judges had it 39-37 for Martinez with the third having the same score for Burgos. Martinez was declared the winner by split-decision in the fight of the night.
Junior-lightweight contender Omar "Super O" Douglas (18 wins – 2 losses – 0 draws – 12 kos) of Wilmington, Delaware was back in action since being hoodwinked and bamboozled in his last fight on April 4th against world title challenger Edner Cherry— losing a highly controversial ten-round unanimous decision. Douglas dominated Cherry and had most believing that all three judges were in need of service dogs and probing canes. Tonight Douglas wasn't going to leave his fate in the hands of the judges.
In the scheduled six-rounder Douglas attacked Isaias Martin Gonzalez (22 wins – 9 losses – 0 draws – 14 kos) of Guadalajara, Mexico at the opening bell, sending him to the canvas early with a combination that started with a right uppercut. Gonzalez was able to reach a standing position when referee Esteves tolled five, dusted his gloves and motioned for the action to resume. Douglas wasted no time in blanketing Gonzalez, drilling him with a left hook and a rapid-fire combination re-introducing him to the ground where he listened to the ten-count on one knee. Bumboo klaat! Douglas was declared the winner by knockout at 1:52 of the opening stanza.
Douglas (R.) connects with the left hook
Debuting Philly bantamweight Romuel "Cuco" Cruz probably was the biggest ticket seller on the show. His fans roared raucously as he made his way to the ring from the dressing room and throughout the scheduled four rounder against Rondarrius Hunter (1 win – 1 loss – 0 draws – 1 ko) of Atlanta, Georgia. There wasn't much action in the opening round or round two as Cruz landed an occasional jab with Hunter doing likewise. However, whenever Cruz connected, his fans cheered wildly. Towards the end of the third round, Cruz landed three blows to Hunter's kidney for which he should have been warned for the infraction by referee Talmadge. Oh, bumbo klaat! The blows sent Hunter to the canvas unable to continue with the referee calling a halt – declaring Cruz the winner by technical knockout at 2:35 of the third round.
Bumbo klaat, the outlaw Jack "Shady" Grady (0 wins – 6 losses – 1 draw) boarded the iron bird in his hometown of Buffalo, New York and headed to Philly as a last-minute replacement to face red-hot seventeen-year-old prospect Shamsuddeen Justice (1 win – 0 losses – 0 draws – 1 ko) of Philadelphia in a scheduled four-round junior-welterweight bout.
The bell rang and Justice attacked—firing like a Gatlin Gun—trying to separate Shady from his senses. But, like the Outlaw Jose Wales—Grady never retreated—pulling his gloved six-shooters from his hips— blasting away—letting Justice know that he was here to "get down" —he didn't come to lay down! Leroy "Bucky" Davis is smiling from the world beyond for me borrowing his famous mantra.
The action was fast and furious with Shady beckoning and talking to his opponent as they each tried to decapitate the other. Justice backed Grady into the ropes and the outlaw immediately put on his earmuffs blocking most of the teenager's barrage, impersonating Ali's famous rope-a-dope while appearing to be having a good time. Much to our surprise "Biggie Smalls"—Greg Sirb – Executive Director of the Pennsylvania State Athletic Commission – signaled for the referee Talmadge to stop the fight! Oh, bumbo klaat! The referee called a halt to the action declaring Justice the winner 2:07 of the opening round.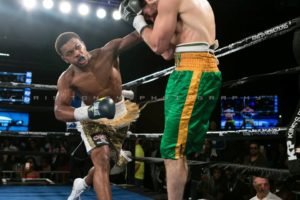 Justice (L.) launches the overhand right
In a scheduled eight-round middleweight bout twenty-three year-old Kyrone "Shut it Down" Davis (12 wins – 1 loss – 0 draws – 5 kos) of Wilmington, Delaware squared off against thirty-nine year-old Jaime "El Indio" Barboza (19 wins – 12 losses – 0 draws – 9 kos) of San Jose, Costa Rica. Davis controlled the action from the opening bell working behind his jab, working the body in a bout which resembled a sparring session. The rounds were identical with Barboza absorbing punishment and getting warned by referee Esteves for incessant holding—eventually being deducted a point in the sixth and eighth rounds. No surprise all three judges scored it a shut-out 80-70 for Davis who won by unanimous decision.
Returning from a forty-two months hiatus and two consecutive losses heavyweight Joe "The Future" Hanks (21 wins – 2 losses – 0 draws – 14 kos) of Newark, New Jersey won a unanimous six-round decision by scores of 60-54 and 58-56—handing undefeated Joel "The Quiet" Storm Caudle (7 wins – 0 losses – 0 draws – 5 kos) of Raleigh, North Carolina his first setback. The 6 ft. 4in Hanks towered over the 5 ft. 10 in Caudle who brought back fond memories of Tony "Two Ton" Galento who was stopped in the fourth round by the great Joe Louis in his bid for the heavyweight title in 1939. Despite the disparity in height, it was safe to assume that Caudle outweighed Hanks. It was an entertaining bout with Hanks using his stiff jab and Caudle staying in his chest making it competitive. He never allowed Hanks to make it one-sided by rallying every time he was hit with a hard shot. Caudle fought valiantly and won two rounds on one of the judge's scorecard.
Featherweight Marcus "Dream Crusher" Bates (7 wins – 0 losses – 1 draw – 6 kos) of Washington, D.C evoked fond memories of Floyd "Money" Mayweather in a scheduled six-rounder against tough Antonio Rodriguez (11 wins – 19 losses – 1 draw – 5 kos) of Durango, Mexico. Bates controlled Rodriguez from the opening bell, jabbing to the body and head dictating the action round after round. Bates dissected Rodriguez like he was a frog for his final project in his high school biology lab. Rodriguez fought fearlessly but Bates was simply too fast and too skilled—taking a two-step drop to reload and return fire using the shoulder-roll as part of his defensive strategy. Thirty seconds before the end of the final round, Bates connected with a lethal left hook to Rodriguez's mid-section which caused a delayed reaction. Rodriguez took a few steps before going to the canvas where he was counted out by referee Talmadge. Bates was declared the winner by knockout at 2:37 of the sixth round.
Bates (R.) connects with the left hook
In an action-packed scheduled four-round heavyweight bout Randy Easton (4 wins – 9 losses – 2 draws – 4 kos) of Sunbury, Pennsylvania dropped undefeated Colby Madison (4 wins – 0 losses – 1 draw – 3 kos) of Owings Mills, Maryland with an overhand right but lost a point for hitting his opponent while his knee was on the canvas—forcing referee Esteves to give the fallen fighter a short respite to recover from the infraction. This probably cost Easton the fight because Madison was hurt and was in dire straits. With enough time remaining in the round, he squandered an opportunity to finish his fallen foe. Madison was able to recover and make it to the end of the round.
Madison boxed beautifully in the second stanza—using his jab— keeping the chiseled Easton at a distance. He controlled the action with Easton sucking wind probably due to this being his first fight in almost a year. With the round coming to an end, Madison connected with a jab followed by a well-placed left hook to Easton's kidney sending him to the canvas. Referee Esteves reached the count of eight as Easton made it to his feet. However, his corner signaled for the referee to end the fight. Thus, Madison was declared the winner by technical knockout at 2:44 of round two.
Philly welterweight Rasheed "Sugar Sheed" Johnson (2 wins – 1 loss – 0 draws – 1 ko) won a unanimous four-round decision 39-37 on all three scorecards over southpaw Kashon Hutchinson (3 wins – 3 losses – 1 draw – 2 kos) of Reading, Pennsylvania. It was a calculated match with Johnson somewhat befuddled by Hutchinson's awkwardness from the southpaw stance. Hutchinson is a counter-puncher who is difficult to hit with a big punch. However, Johnson was able to solve the conundrum by working his jab and landing enough punches to garner three of the four rounds and the decision.
Johnson looking for an opening
It was another exciting night of boxing in our beloved city, "The Capital of Boxing" with ring announcer Alex Barbosa and "The Queens of King's" – Mimi, Kendra & Kiana —entertaining the capacity crowd. Brunson continues to move up the junior-middleweight rankings, currently 15th in the world according to the IBF and Robinson proved that he should be atop the list for the Briscoe Award "2017 Rookie of the Year."
In the words of Peter Tosh, "Oh, bumbo klaat, oh ras klaat!"
Have an irie Christmas and a dance-hall New Year! See you in 2018!
Continue to support the sweet science, and remember, always carry your mouthpiece!
ghanson3@hotmail.com