The Mouthpiece
We Didn't Land on Plymouth Rock!—Davis  Stops Rosario – Aikens Decisions Shabazz
By: George H. Hanson Jr., Esq.
Date:                       Friday, May 19, 2017
Venue:                    2300 Arena – Philadelphia, PA
Promoters:              Marshall Kauffman—King's Promotions
Ring Announcer:    Alex Barbosa
Referees:                 Ronald Ali Bashir & Gary Rosato
Photos:                   www.christoneyphotography.com
In case you are wondering about the title of this article, you must remember that today is the 92nd birthday of Malcolm X who uttered those famous words, "We didn't land on Plymouth Rock, Plymouth Rock landed on us!" referring to the Black experience in these United States of America. Malcolm was an uncompromising, unapologetic, fearless leader in the fight for humanity and equal rights. And in the scheduled eight-round main, lightweight Carlos Rosario (7 wins – 1 loss – 0 draws – 4 kos) of Pennsauken, New Jersey didn't land on Joshua "Dynamite" Davis (10 wins – 1 loss – 0 draws – 4 kos) of Washington, DC, Joshua Davis landed on him and ended the fight at 1:49 of the seventh round—winning by technical knockout.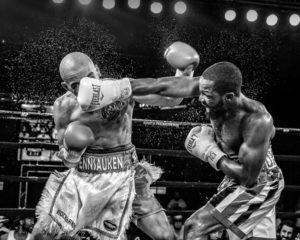 Davis (R.) lands the overhand right.
Rosario entered the ring to House of Pain, 1992 Grammy-nominated hit "Jump Around" blaring over the house speakers as Davis waited patiently in his corner decked out in an exquisite white leather outfit supremely confident and calm. Ring announcer Alex Barbosa swayed back and forth – rocking to the beat – swept up in the pageantry of the ring-walk along with the crowd. Not to be outdone by Barbosa, I was tempted to hop up on the press-row table and "jump around."
The gong sounded and it was obvious that both boxers came to get down. After the initial feeling out opening round, Davis landed a half-upper/left hook that sent Rosario to the canvas. It was a perfect strike reminiscent of the great Sugar Ray Robinson who mastered that punch that I have aptly labeled the half-hook-uppercut. Rosario had both feet parallel—squared-up—and was susceptible to being toppled with a hard shot. He was up almost immediately as referee Rosato dusted his gloves and signaled for the action to resume. Davis attacked and Rosato responded as they rumbled to the bell ending the second stanza.
The bout turned into a tactical chess match with both combatants demonstrating their skills and boxing acumen. Davis boxed brilliantly using his jab, dropping the occasional right while maneuvering around the ring calm and focused like a seasoned professional always looking to end the fight with one punch or a blistering combination. Rosario held his own responding, never allowing his adversary to dominate. But, you had to score the rounds for Davis who was simply busier and landed the better shots – occasionally boxing from the southpaw stance. In the sixth round, Davis connected with a straight right which bounced off Rosario's dome sending him to the canvas as the time-keeper signaled ten seconds remaining in the round. Rosario was shaken but somehow got up as the referee reached the count of five. Shortly thereafter the bell rang ending the round and he made it back to his corner.
Davis (R.) connects with the right hook.
Davis came out boxing in the seventh round looking for another opening to land a hard shot. And he was able to counter Rosario's jab with another hard right that discombobulated the New Jersey pugilist. Seizing the moment, Davis attacked, pouring it on with a vicious combination forcing referee Rosato to jump between the two fighters and call a halt to the bout at 1:27—raising Davis' hand in victory. It was an impressive performance by the Washington, DC native who showed much poise and professionalism in systematically dissecting his opponent and ending the fight in fantastic fashion.
In his professional debut, twenty-one year-old Gerardo Tiburcio of Phoenixville, Pennsylvania made short work of Philly junior-welterweight Titos Gosalves (0 wins – 1 loss – 0 draws)—winning by technical knockout at 1:47 of the first round of the scheduled four rounder. Tiburcio attacked at the opening bell, blanketing his opponent with combinations. Early in the round a straight right found Gosalves' chin and toppled him to the canvas. As referee Bashear tolled the count four, Gosalves made it to his feet and had his gloves wiped. The fight continued and Tiburcio hopped all over Gosalves like a thirsty wino who just discovered a bottle of Jack Daniels—throwing and connecting with a hard combination that wobbled the Philly fighter – one glove touching the canvas to keep him upright. Gosalves was hurt and the referee stopped the fight to protect him from further punishment.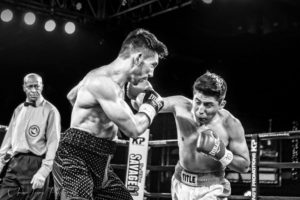 Tiburcio (R.) launching the right
In a crossroads fight, light-heavyweight Antowyan "The Iceman" Aikens (10 wins – 3 losses – 1 draw – 1 ko) of Atlantic City faced undefeated Amir "Sharp Shooter" Shabazz (4 wins – 0 losses – 0 draws – 1 ko) of Philadelphia in a scheduled six-rounder. Aikens, once a highly-touted undefeated prospect, is winless in his last four bouts – three losses and a draw. Knowing the gravity of this bout, Aikens came out at the opening bell jabbing, controlling the action— keeping Shabazz at a distance. Round after round both fighters searched for an opening with Aikens having an edge because his jab was consistent. Shabazz won the fourth round simply because he landed the most telling blows – a one-two capped off by a left hook early in the round. The fight turned out to be a tactical match with nothing of consequence landing. When it was over one judge had it 60-54 with the other two scoring it 58-56- all for Aikens.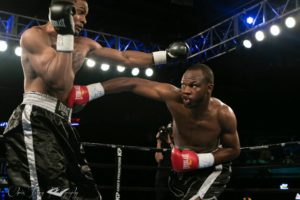 Aikens (R.) lands the right hand.
Philadelphia junior-welterweight Tyrone Crawley Jr. (6 wins – 0 losses – 0 draws – 0 kos) won a unanimous six-round decision over Juan Rodriguez (7 wins – 6 losses – 0 draws – 5 kos) of Haymarket, Virginia by scores of 60-54 twice and 59-55. The southpaw Crawley dictated the pace with his straight left and lateral movement. Rodriguez was just too slow to offset Crawley who has an uncanny ability to throw punches from odd angles. Thus, with his father—former lightweight title contender Tyrone "Butterfly" Crawley— yelling instructions from the corner, he befuddled and out-boxed Rodriguez who seemed one step behind throughout the bout. It wasn't the most aesthetically pleasing performance. But, nevertheless an ugly victory is much better than a beautiful loss. It was later discovered that Crawley hurt his hand early in the fight and was fighting with one good mitt.
In a scheduled six-round lightweight bout, Philly fighter and fan-favorite Thomas 'TJ" Velasquez (8 wins – 0 losses – 0 draws – 5 kos) squared off against Brandon Sanudo (5 wins – 3 losses – 0 draws – 2 kos) of Baja California, Mexico. Velasquez attacked at the opening bell landing to his adversary's head and body hoping to end the fight early. It is safe to assume that Sanudo felt the explosive power of Velasquez because it appeared that he was in survival mode early. The Mexican focused on evading punishment instead to inflicting damage to Velasquez who was trying to decapitate him and score his sixth knockout. The fight turned into a high speed chase with Sanudo on his bicycle with Velasquez in hot pursuit winning all of the rounds—landing to the head and body. It was a shut-out with Velazquez winning a unanimous decision 60-53 and 60-54 twice.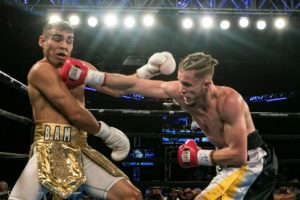 Velasquez (R.) lands the right hand
Undefeated Philadelphia lightweight Steven Ortiz (5 wins – 0 losses – 0 draws – 1 ko) dominated Hector Rivera (3 wins – 1 loss – 0 draws – 2 kos) of San Juan, Puerto Rico dropping him in the opening stanza and again in the second round – stopping him at 2:37 mark. The taller Ortiz worked assiduously behind a stiff jab going to the head and body with equal precision. He controlled Rivera with the jab in the first round – keeping him at bay unable to mount an attack. Whenever he tried to throw a combination, Ortiz punished him with a hard jab followed by a left hook. Towards the end of the round, Ortiz bounced a left hook off Rivera's dome followed by a straight right, sending him to the canvas as the bell ending the round sounded. Rivera was up almost immediately as referee Rosato started to count. The referee wiped his gloves and allowed him to head to his corner since the round had concluded.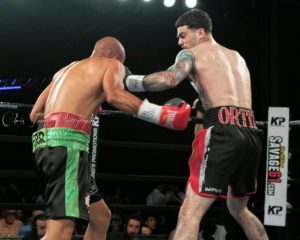 Ortiz (R.) lands the left hook.
Ortiz continued his dominance working behind the jab – to the head and the pit of Rivera's stomach. He boxed brilliantly as Rivera was simply outclassed by the more skilled nemesis. With the round coming to a close, Ortiz caught Rivera with a sweeping left hook sending him to the canvas for the second time. Rivera was able to reach his feet as the referee tolled the count of three and the action resumed. Ortiz immediately blasted Rivera with a vicious combination sending him sideways forcing him to keep his balance by touching his gloves to the canvas. It was apparent that he was in dire straits and the referee decided to save him from further punishment by calling a halt to this one-sided fight.
In a scheduled four round welterweight bout, South Philadelphia's Vincent Floyd (2 wins – 2 losses – 1 draw – 1 ko) and Rafael Montalvo (3 wins – 5 losses – 0 draws – 3 kos) of St. Clair, Pennsylvania came out blazing at the opening bell as though their lives were contingent on winning! There was no fistic foreplay—they got down to business launching bombs trying to give some work to the undertaker. Montalvo wasn't backing up and we all know that Floyd has one gear – forward! Floyd never met a man or a fighter that can cause him to back-pedal. The action was fast and furious with Montalvo pinning Floyd on the ropes towards the end of the opening round giving him the edge on the scorecards.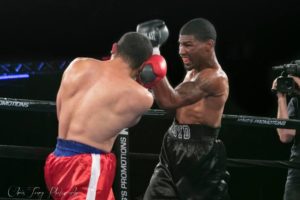 Floyd (R.) lands the left uppercut.
But early in the second stanza, the southpaw Floyd connected with a blistering left hook—an unusual punch from that stance—sending Montalvo to the canvas! Somewhat shaken, Montalvo was up as referee Gary Rosato reached the count of five—wiped his gloves and motioned for the fight to continue. Montalvo cleared his head and was competitive to the bell!
Lightning struck again as Floyd connected with the same punch in the third round.
I could hear the ghost of the late, great Howard Cosell yelling from beyond the grave, "Down goes Montalvo! Down goes Montalvo!" The fallen fighter was able to rise on spaghetti legs—stumbling forward—forcing referee Rosato to call a halt at 1:26 – declaring Floyd the victor by technical knockout!
Somebody's "0" had to go in a scheduled four-round junior-welterweight bout featuring two Philadelphia fighters—Antonio "The Sniper" Allen (0 wins – 5 losses – 0 draws) and Demetris Williams (0 wins – 2 losses – 0 draws). There wasn't much action. Then again, what do I know about boxing? Maybe, it was simply a tactical, defensive battle with two sharpshooters picking there shot. I doubt if there were twenty punches thrown per round. But, you had no choice and had to score the fight for Williams because he was the aggressor and he landed more shots as the 6 feet 4 inch Allen waited like a preying mantis in the middle of the lawn hoping that the sprinkler system isn't functioning. Equally important, Williams' fans cheered throughout the bout whenever he landed a shot. No surprise that all three judges awarded Williams a unanimous decision 40-36 on all three scorecards.
Allen didn't land on Williams but Davis landed on Rosario in the main event in another exciting night of Philly boxing!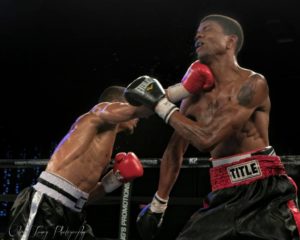 Happy Birthday Malcolm!
Continue to support the sweet science, and remember, always carry your mouthpiece!
ghanson3@hotmail.com