The Mouthpiece
Christian Principles—Carto Stops Adyaka – Dubose Decisions Crespo
By: George H. Hanson Jr., Esq.
Date: August 11, 2017
Venue: The Sugar House Casino – Philadelphia, PA
Promoters: Marshall Kauffman—King's Promotions
Ring Announcer: Alex Barbosa
Referees: Gary Rosato & Blair Talmadge
Coverage: Eleven Sports
Commentators: Marc Abrams & Rich Quinones
Photos: www.christoneyphotography.com
Christian "The Iceman" Carto (10 wins – 0 losses – 0 draws – 10 kos) is an extremely talented fighter with a tranquil consciousness of his abilities and the requisite work ethic necessary for greatness.  Unlike his contemporaries, the twenty year-old undefeated Philly bantamweight is absent from social media disputes and discussion preferring to spend his time working on his craft – allowing his fists to do all the talking on fight night. Thus, the building was packed with a sea of supporters decked out in t-shirts bearing his name. They all came out to witness a champion in the making in the six-round main event—hoping to see him extend his knockout streak against Phillip Adyaka. (7 wins – 9 losses – 0 draws – 4 kos) of St. Paul Minnesota by way of Kampala, Uganda. There was little question that the Ugandan wasn't going to make it to the final bell. But, we weren't sure when he would exit and how it would happen. There was a higher probability of it snowing in Jamaica than Adyaka losing by decision.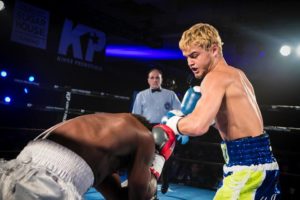 Carto (R.) on the attack
The fans stood in unison as Carto made his way to the ring led by trainer Mickey Rosati and his entourage comprised of  brother/manager Frankie, his father Frank, 2017 Pennsylvania Golden Gloves Heavyweight champion Sonny Conto and several others. It was a ring walk befitting of a world champion as Adyaka waited patiently in his corner appreciative of the pageantry.
The gong sounded and Carto attacked with quick combinations backing up the diminutive Adyaka who retreated immediately in survival mode unable to thwart his nemesis' onslaught. Carto blanketed the Ugandan like a one-man army on a covert mission that had to be completed with no witnesses remaining. He hit Adyaka with everything except referee Gary Rosato. Kudos to Adyaka who managed to throw a few jabs while attempting to survive and make it out of the round. Somehow, he made it to the conclusion of the opening round only to suffer a similar fate in the second stanza. Carto routed his opponent from pillar to post. I was tempted to jump out of my press-row seat and save the courageous little fighter and prevent Carto from facing a charge of involuntary manslaughter. Gary Rosato is a compassionate man and an experienced referee. Thus, he halted the one-sided affair at 2:43 declaring Carto the winner by technical knockout.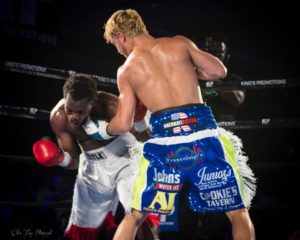 Carto (R.) lands the uppercut
Southpaw junior-welterweight Kashon "The Left Hand Bandit' Hutchinson (2 wins – 3 losses – 0 draws – 1 ko) of Reading, Pennsylvania brought his record to .500 by winning a unanimous four-round decision over forty-two year-old Demetris Williams (1 win – 2 losses – 0 draws – 0 ko) of Philadelphia, 38-37 on all three scorecards. Hutchinson was able to win the majority of rounds by using his jab and quick combinations to offset Williams' forward progress. However, Williams won the third stanza simply because at the urging of trainer Greg Hackett yelling from his corner he was able to follow instructions and land a good left hook that almost turned the tide in his favor. Hutchinson—who was coming off three consecutive losses—wasn't going to snatch defeat from the jaws of victory and maintained his composure until the bell and went on to capture the final round.
In another six-rounder, Philly junior-lightweight Antonio "The Tiger" Dubose (8 wins – 2 losses – 1 draw – 2 kos) was impressive—resembling Hammerin' Henry Armstrong and Archie Moore rolled into one— dominating the tough and talented Josh Crespo (7 wins – 4 losses – 3 draws – 3 kos) of New Haven, Connecticut. Trained by former IBF Junior-middleweight champion Robert "Bam Bam" Hines—Dubose walked straight to Crespo at the opening bell and landed a stiff jab followed by a blistering overhand right to set the tone and tempo of what resulted in an exciting, hotly contested action-packed bout. Not to be outdone, Crespo wobbled Dubose with a vicious left hook momentarily stopping his attack. However, the Philly fighter wasn't going to be denied and resumed his forward march landing effectively to Crespo's body.
Dubose rocked Crespo early in the second stanza with a straight right. They fought at a frenetic pace and towards the end of the round Dubose hurt Crespo with the same punch followed by a left uppercut that had him in dire straits. He went after Crespo with a barrage of punches for about fifteen seconds sending him to the canvas. Referee Talmadge reached the count of four before Crespo reached a standing position and the bell rang ending the round.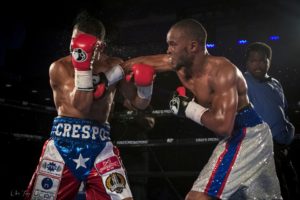 Dubose (R.) lands the overhand right
The fight continued at the same feverish pace with Dubose having the upper hand. However, Crespo fought courageously with every ounce of his energy unwilling to allow his opponent to reintroduce him to the canvas. Crespo was dangerous to the end and had his best round in the closing stanza which was close and could have been awarded to him. One judge scored it 60-53 with the other two returning identical scores of 58-53 all for Dubose who won by unanimous decision.
As has become his trademark ring walk, Khalib "Big Foot" Whitmore (6 wins – 1 loss – 0 draws – 5 kos) of Philadelphia—decked out in a 70's afro wig, huge midnight black sunglasses and gold chains led by trainer Nazim Richardson, assistant trainer Sharron Baker, cutman Moe Morales followed by his entourage inclusive of two-time world cruiserweight champion Steve "USS" Cunningham—grooved their way from the dressing room to the ring accompanied by The Godfather of Go Go—the late Chuck Brown—on his 1979 hit single Bustin' Loose. Whitmore was back in action from an almost 32-month layoff after suffering his only setback—a second round technical knockout loss on January 30, 2015 at the hands of Carlos Reyes in a scheduled four-round cruiserweight bout at Foxwoods Resort in Connecticut. His opponent for the scheduled six-round cruiserweight bout—Elvin Sanchez (7 wins – 3 loss – 1 draw – 5 kos) of Patterson, New Jersey was coming off an even longer hiatus – having last seen action on October 25, 2014 when he won a four-round majority decision over Brad Austin.
The southpaw Whitmore used his right jab to keep Sanchez at bay in a close opening round with both men jabbing landing nothing of consequence. Sanchez must have seen something in Whitmore's arsenal that could be exploited because in the second round he came out fighting from the southpaw stance. Now the bout was a duel between two southpaws jabbing trying to gain an advantage. Midway through the stanza, Sanchez struck gold when he caught Whitmore with a perfectly-placed brutal left uppercut that caught him on the tip of the chin immediately followed by a right hook that sent the Philadelphian to the canvas. Somewhat shaken, Whitmore made it upright as referee Rosato tolled the count of four, dusted his gloves and motioned for the action to resume. Sanchez seized the moment and hopped on Whitmore like a wino discovering an open bottle of Wild Irish Rose and landed a brutal combination forcing Rosato to call a halt at 1:54 – declaring Sanchez the winner by technical knockout as the crowd went silent—shocked at what had transpired.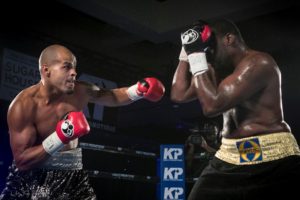 Sanchez (L.) pressing the action
In a scheduled six-round welterweight bout "Marvelous" Marquis Taylor (6 wins – 1 loss – 0 draws – 0 kos) of Houston, Texan won a unanimous decision 60-54 on all three scorecards against South Philadelphia's Vincent Floyd (3 wins – 2 losses – 1 draw – 2 kos). It wasn't an aesthetically pleasing bout as Taylor jabbed, clutched and landing several punches below the belt and in the back of the head of the southpaw Floyd. Taylor used his speed to jab and offset Floyd who never retreated, coming forward unleashing to the head and body. Whenever Floyd cornered his adversary, Taylor wisely tied him up, forcing the referee to separate the combatants. For some inexplicable reason referee Rosato failed to warn Taylor for him hitting Floyd in the back of the head throughout the bout.
The battle of southpaws— junior-middleweight Erik Spring (9 wins – 1 loss – 2 draws – 1 ko) of Reading, Pennsylvania won a closely contested six-round split-decision over David "The Duke" Wilson (5 wins – 0 losses – 1 draws – 1 ko) of New Haven, Connecticut 58-56 twice with the third judge scoring it a draw 57-57. It was an extremely difficult fight to score with most of press-row convinced that the final judge was correct and that a draw was accurate. Wilson was the aggressor in the opening round, backing up Spring with his jab – out-working him for three minutes. I also scored the second stanza for Wilson who repeated his success from the first round. The third round was close and I scored the fourth for Wilson who pressed the action. I awarded Spring the last two rounds because he was busier. Thus, I had the fight a draw or a victory for Wilson depending on how the third round was scored.
Philadelphia super-middleweight Brandon "B-Rob" Robinson (4 wins – 1 loss – 0 draws – 3 kos) didn't waste much time in disposing and dismissing Shane Pearson (2 wins – 1 loss – 0 draws – 2 kos) of Statesville, North Carolina, scoring a knockout—25 second of the second round of the scheduled six-rounder. There wasn't much action in the opening round as Robinson tried to establish his jab as Pearson pressed forward. However, in the second stanza he caught Pearson with a wicked left hook that careened off his chin followed by a barrage of punches as referee Talmadge tried to jump in to stop the fight. But, as Talmadge grabbed Robinson's elbow the momentum from the fighter's punches threw the referee backwards. Robinson was able to unleash several more punches as the referee gathered himself and got back in the fray and stopped the fight as Pearson went to the canvas face-first. Robinson was declared the winner by knockout.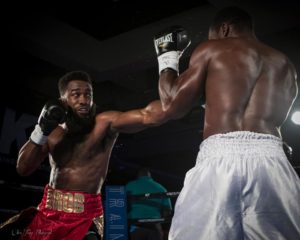 Robinson (L.) landing the jab
Debuting Philly bantamweight Jerrod "The Golden" Minor won by technical knockout—2:34 of the final round of the scheduled four-rounder against fellow Philadelphian—the rough and resilient Steve Lopez (0 wins – 1 loss – 0 draws). The twenty year-old Minor pressed the action in the opening round blasting the 34 year-old Lopez with every conceivable shot to the head and body. He dominated round after round with total disregard for Lopez who tried to fight while back-pedaling as Minor imposed his will in an attempt to break his spirit—forcing him to quit or the referee to stop the carnage. By the third round, Minor had his hands hanging at his waist winging left hooks and rights at Lopez's head trying to decapitate him ending the fight. Lopez complained of a shot that landed on his belt line in the round. The blow was legal and it took the wind out of Lopez's sail. Minor continued his dominance in the final round hurting Lopez to the body beating him around the ring until referee Rosato decided that Lopez needed to be rescued and called an end to the mismatch.
In the opening bout of the evening, light-heavyweight Christian "Nuke" Montano (1 win – 0 losses – 0 draws – 1 ko) of Houston, Texas spoiled Dameron "The Bruiser" Kirby's professional debut—dropping the fighter from Washington, DC  three times in the opening round of the scheduled four-rounder—forcing the referee to rescue Kirby—calling a halt at 2:25, declaring Montano the victor. It was evident from the onset that Montano was the more polished fighter as he threw accurate combinations with Kirby motoring around the ring like a novice in his first encounter.  The first knockdown was the result of a combination capped off by a left uppercut. Kirby was able to make it to a standing position as referee Talmadge reached the count of five. The bout resumed and shortly thereafter another combination redeposited Kirby to the canvas. This time he made it up at the count of six.  Montano wasn't going to allow him to make it to the bell and delivered a hard combination that forced Kirby to take a knee as though the National Anthem was playing and he was joining Colin Kaepernick's protest against the police murdering unarmed Black people. Referee Talmadge interpreted his actions as a sign of surrender and not an impromptu protest in support for the NFL quarterback.
In a four-rounder, debuting junior-welterweight southpaw Shamsuddeen "The Silent Killa" Justice who two days earlier reached the ripe old age of seventeen was simply too skilled and too strong for  Titos Matthew Gosalves (0 wins – 2 losses – 0 draws) of Lancaster, Pennsylvania. With trainer/father Zahir Justice in his corner and a host of fans yelling throughout the fight, the teenager unloaded on his twenty-eight year-old opponent seconds after the bout commenced—landing to the head and body with regular frequency relishing in the limelight— in complete control—enjoying the moment—letting everyone know that he was more than ready for the punch-for-pay ranks. The youngster dominated every minute and every second of the fight forcing referee Rosato to stop the pogrom at 2:11 of the final round.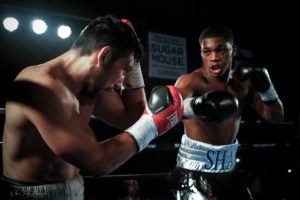 Justice (R.) searching for an opening
It was another great night of Philly boxing by Marshall Kauffman and his cohorts that garnered another sold-out audience. Christian Carto has more support than a man wearing elastic waist pants, suspenders and a belt!  His boxing trunks had so many sponsor logos that it resembled a race car in the Daytona 500.  With such a huge fan base and public appeal it is due time that the rest of the country witness Carto's pugilistic prowess on one of the major networks!
Continue to support the sweet science, and remember, always carry your mouthpiece!
ghanson3@hotmail.com