By: George H. Hanson Jr., Esq.
Date: Friday, October 14, 2016
Venue: 2300 Arena – Philadelphia, PA
Promoters: Peltz Boxing, BAM Boxing & Joe Hand Promotions
Coverage: Gofightlive.com
Ring Announcer: Steve Mittman
Referee: Steve Smoger & Hurley McCall
Photos: www.christoneyphotography.com
There was a time when Philadelphia's Tevin "The American Idol" Farmer with 7 wins – 4 losses – 1 draw record was relegated to the role of an opponent—a fighter who was expected to be cannon fodder for upcoming prospects. Getting stopped in his professional debut and again in his 12th fight on October 12, 2012– he found himself at the crossroads of his career. And he chose the right path – new manager, new trainers – new gym! And tonight Farmer who is widely regarded as the best junior-lightweight on the planet extended his win streak to sixteen with a masterful performance, shutting out tough Orlando Rizo (19 wins – 7 losses – 0 draws – 11 kos) of Managua, Nicaragua – displaying his wares, putting in the work in preparation for a world title shot in 2017.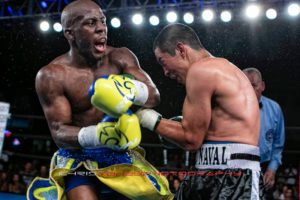 Farmer (L.) unloading on Rizo.
In the scheduled eight-rounder, I could hear rapper Lil' Wayne in the recesses of my mind singing "Rodney King baby, beat it like a cop" as Farmer lambasted Rizo round after round – dominating with his jab, quick combinations, angles and overall boxing acumen. Farmer was in total control from the opening bell, working behind his southpaw laser jab in the "battle" of southpaws. The Philly fighter was just too quick and too slick for Rizo who pressed the action.
Without a warning, referee Hurley McCall penalized Farmer a point for a low blow in the fourth round amidst a cacophony of boos from the Philly faithful. Never distracted or dissuaded Farmer continued his domination—a mere sparring session—a tune-up for his shot at one of the world championships early next year. Farmer was on cruise-control relishing in the lime-light of the near-capacity audience.
McCall took another point late in the eighth and final round for an alleged infraction south of the border as Farmer was beating Rizo like a cop—landing at will—connecting with combinations from all angles. McCall could have taken three points – it would not have made a difference as Farmer won a one-sided unanimous decision 78-72 twice and 77-73 in a masterful performance giving much credence to my claim that he is the best junior-lightweight on the planet!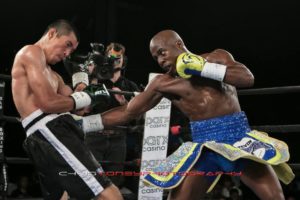 Farmer (R.) digging to the body.
In the opening bout of the evening Fred Jenkins Jr. (9 wins – 3 losses – 0 draws – 2 kos) of North Philadelphia returned to action after a year-long layoff to score a unanimous four-round decision over Ibrihim Shabazz (2 wins – 3 losses – 1 draw – 0 kos) of Newark, New Jersey. Jenkins dominated from the opening bell, raking the southpaw Shabazz with a relentless body attack. Shabazz was able to connect with an occasional straight left as Jenkins blanketed him forcing the tempo and pace. Jenkins showed very little ring-rust and was sedulous in his body attack listening to his trainer/father Fred Jenkins Sr. imploring him to continue pounding away at his opponent's midsection. Jenkins captured his tenth victory by scores of 40-36 and 39-37 twice.
Junior-middleweight Isaiah Wise (2 wins – 0 losses – 0 draws – 2 kos) of North Philadelphia and James Robinson (4 wins – 4 losses – 4 draws – 2 kos) of York, Pennsylvania thrilled the fans in an action-packed four-rounder. Wise attacked at the opening bell landing some hard shots, forcing the taller Robinson to retreat. The man from North Philly dominated the action in rounds one and two. However, Robinson found his inner Ali and used lateral movement, a good jab and combinations to win the third round and damage the bridge of Wise's nose which was carmine with blood. In the final round Wise sent Robinson to the canvas with a left hook and a straight right combination. Somewhat surprised, the fallen fighter was able to be upright before referee Smoger tolled the count of three and hop on his Schwinn ten-speed bicycle and make it to the final bell. No surprise—Wise won by unanimous decision 40-35, 39-36 and 38-37.
Everyone expected fistic fireworks in the scheduled eight-round main event junior-middleweight bout featuring Philly's hard-hitting Tyrone "Young Gun" Brunson (23 wins – 6 losses – 1 draw – 22 kos) and undefeated Ismael "Tito" Garcia (19 wins – 7 losses – 0 draws – 11 kos) of Vineland, New Jersey. Brunson was both vulnerable and spectacular in his last outing in the same ring on August 5th – stopping Carlos Garcia with a vicious body shot in the fourth round of their scheduled eight-rounder. Brunson was able to get off the deck twice to score the knockout. Ismael Garcia won a six-round split-decision when he faced Carlos Garcia in March.
We expected a war with one of the combatants needing smelling salts to rise from the canvas after the referee tolled ten. However, what transpired was a tactical chess match with Brunson finding his inner Floyd "Money" Mayweather and doing enough to control the pace— landing his jab while sticking and moving with Garcia in hot pursuit. The rounds were close with Garcia appearing to be somewhat bothered by Brunson's advantage in speed. There were no knockdowns or cause for fans to be on the edge of their seats in anticipation of knockout. We came for a street fight and we were treated to a tactical match filled with close rounds.
Brunson had a considerable edge in the final round when a head-butt opened a gash over Garcia's left eye forcing him to keep his distance as Brunson pressed the action for the entirety of the round. Press-row was split and so were the judges as one had it 78-74 for Brunson, the second judge having the same score for Garcia and the third scoring it a draw 74-74. The bout was declared a split-draw.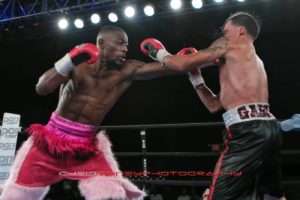 Brunson (L.) landing the jab on Garcia.
In a scheduled six-round lightweight match—the "Battle of Barbers"—Philadelphia's Victor "The Fighting Barber" Vasquez (19 wins – 11 losses – 1 draw – 9 kos) squared off for the fourth time against his fellow coiffeur Osnel "Prince" Charles (10 wins – 15 losses – 1 draw – 1 ko) of Atlantic City, New Jersey by way of Haiti. In their first two encounters, Charles won by majority decision and split decision respectively. Vasquez was able to turn the tide winning by fourth round technical knockout of their scheduled six-rounder June 30th of last year in this same building. Thus, tonight was pivotal in that Vasquez had an opportunity to even the score and Charles could widen the gap and give credence to the claim that the last fight was an anomaly.
The rounds were close with very little separating the combatants. Charles suffered a cut over his right eye in the second round and Vasquez was bleeding over his left cheek in the fifth round. There were several exchanges throughout the bout with each fighter giving as much as he was receiving. In a show of mutual respect, the fighters hugged before the beginning of the sixth and final round which concluded with them trading for the last twenty-seconds until the bell brought an end to the bout.
A reasonable and rational verdict would have been a draw. However, one judge apparently in need of a service dog scored it 59-55 with the other two seeing it identically 58-56 all for Vasquez who won by unanimous decision and evened the score 2-2 with Charles. I doubt if there will a fifth encounter.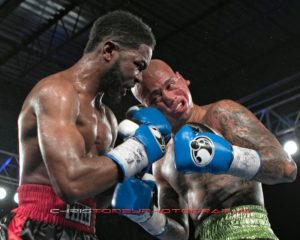 Charles (L.) connects with an uppercut.
Undefeated Philly lightweight Steven Ortiz (4 wins – 0 losses – 0 draws – 0 kos) was impressive—stopping Daniel Tran (4 wins – 5 losses – 1 draw – 2 kos) of Oklahoma City, Oklahoma at 2:20 of the second round—winning by technical knockout. The taller Ortiz controlled the action at the opening bell with his jab landing uppercuts and hooks —dominating his smaller opponent who was simply outgunned. In the second round Ortiz hurt Tran with a hard left hook and straight right, forcing the smaller fighter to clutch in hope of surviving. Ortiz gained separation and blasted Tran with combinations buckling his legs. Tran was in dire straits and Ortiz drilled him with a vicious combination forcing referee McCall to end the pogrom and prevent any further damage.
Farmer's stablemate, lightweight Anthony "Bad Boy" Burgin (9 wins – 2 losses – 0 draws – 2 kos) faced Gerald Smith (3 wins – 2 losses – 0 draws – 1 ko) in an all-Philly match-up scheduled for six rounds. Burgin took the early lead by landing a hard right hand in the opening round forcing his shorter opponent to hold and clear his head. Burgin buckled the slick-boxing Smith in the second stanza—his glove slightly scraping the canvas—referee McCall not awarding Burgin a knockdown as mandated by the rules. Smith's left eye was trickling blood at the conclusion of the round.
Smith who was returning after a two-year hiatus, found his stride over the remainder of the fight by pressing the action forcing Burgin to fight at his pace—staying in his chest—making the rounds close. In the final round they stood toe-to-toe to finish the fight. I had it 58-56 as did one of the judges, with the other two scoring it 60-54 for Burgin who won by unanimous decision.
Philadelphia junior-welterweight Hasan "The Hitman" Young (5 wins – 1 loss – 1 draw – 2 kos) returned to action 32 months after announcing his retirement for religious reasons subsequent to a unanimous six-round decision victory over Justin Johnson on January 24, 2014 at Resorts International, Atlantic City, New Jersey. Ballooning up to the cruiserweight limit during his hiatus, the talented Young had to sweat off forty-pounds to face the unpredictable Kevin "Scarecrow" Womack Jr. (7 wins – 12 losses – 3 draws – 5 kos) of Baltimore, Maryland in a four-round junior-middleweight bout. It would not have been the opponent I would have selected for Young after such a long layoff. The upset minded Womack is a tall, unpredictable fighter with power in both mitts with an uncanny ability to throw punches from peculiar angles.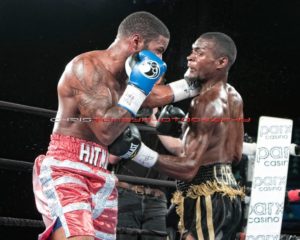 Young (L.) and Womack landing simultaneously!
The ever-entertaining Womack exited the dressing room and danced all the way to the ring as thought he was auditioning for "Dancing with the Stars." The bell rang and Young came forward as Womack used his long jab. Early in the round, Young hurt Womack with an overhand right forcing his adversary to clutch like an octopus. Womack recuperated, gained separation, used his long jab as Young breathed down on him and pressed the action. Despite the obvious ring-rust, Young captured the first and second stanzas. It was shaping up into an ugly fight as referee Smoger warned Womack for holding in the second round. Womack came out for the third round throwing multiple shots with bad intentions attempting to decapitate Young. But, the action eventually slowed down as Womack tied up Young to limit his ability to throw punches. In the final round Young landed a blistering left hook that momentarily froze Womack in his tracks. But, the well-traveled fighter demonstrated a cast-iron chin and shook his head beckoning Young to "come on!" – much to the delight of the fans. It wasn't an aesthetically pleasing fight. Young was declared the winner by unanimous decision as the judges scored it 40-36 twice and 39-37.
In the final bout of the night with much of the crowd dispersing after the main event, Baltimore junior-welterweight – undefeated southpaw Mike "Yes Indeed" Reed (19 wins – 0 losses – 0 draws – 11 kos) as my boxing coach would say, "did the shim-bam-booji" – boxed at a level where he was virtually untouchable!
Reed hit Aaron Herrera (29 wins – 5 losses – 1 draw – 18 kos) of Yucatán, Mexico with everything except the referee—slipping and sliding, countering, parrying, changing directions—a gloved Harry Houdini—disappearing—reappearing just in time to counter with ammunition from his vaunted arsenal—pitching a shut-out as his fans chanted "Mike Reed, Mike, Mike Reed!" throughout the scheduled eight-round bout.
For five rounds Reed displayed his talent before deciding that it was time to close the show. He put Herrera on his knees with a vicious right hook to the solar-plexus at the end of the sixth round— the Mexican genuflecting as though he had just entered the Vatican—regurgitating much of his afternoon meal—getting counted out by referee McCall at 3:00. Reed was impressive in scoring his 20th victory in as many fights.
Herrera fought valiantly with the heart of a lion. But, his courage was no match for Reed's boxing acumen. And I must agree with the incomparable Harold Lederman, perched at ringside, who told Reed as he was heading to the dressing room, "You belong on HBO!"

Reed (L.) landing the straight left.
It was another terrific night of the sweet science in the City of Brotherly Love—The Capital of Boxing—Philadelphia. Despite his declaration several years aback that he was "winding down" – promoter J. Russell Peltz hasn't missed a beat and shows no signs of losing ground. The near-capacity crowd reveled in the action. The incomparable Harold Lederman made the two-our trip from New York to be ringside for the action. Allow me to mount my soapbox and declare Tevin "The American Idol" Farmer the best junior-lightweight on the planet—"Rodney King baby, beat it like a cop!"
Continue to support the sweet science, and remember, always carry your mouthpiece!
ghanson3@hotmail.com