The Mouthpiece – Papa Smurf and the Frog!—Brunson Stops Cintron and Ortiz Defeats Jones
By: George H. Hanson Jr., Esq.
Date:                       June 24, 2017
Venue:                   2300 Arena – Philadelphia, PA
Promoters:              Marshall Kauffman—King's Promotions
Ring Announcer:   Alex Barbosa
Referees:                Shawn Clark & Benjy Esteves Jr.
Coverage:               Comcast SportsNet
Commentators:       Marc Abrams & Rich Quinones
Photos:                   www.christoneyphotography.com 
I wasn't at the epic heavyweight battle between George Foreman and Ron Lyle on January 24, 1976 at Caesar's Palace in Las Vegas – Ring Magazine's Fight of the Year. It was an explosive bout between two heavy-hitters in which both combatants were down in the fourth round – Foreman twice and Lyle once – with Foreman scoring a final knockdown and the knockout in the fifth round of the scheduled twelve-rounder for the vacant NABF Heavyweight title. But, hot damn, I was ringside last night to witness the equally thrilling and supremely violent collision between Tyrone "Young Gun" Brunson and former IBF Welterweight Champion Kermit "The Killer" Cintron for the vacant Pennsylvania State Junior-middleweight title which ended in similar fashion.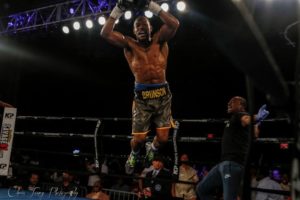 A jubilant Brunson celebrates!
I doubt if there could have been a more intriguing match-up giving the colorful backgrounds of the pugilists. The thirty-seven year-old Cintron won the vacant IBF Welterweight title on October 28, 2006 with a fifth round technical knockout over Mark Suarez. He would make two successful defenses before losing his belt via sixth round knockout to Antonio Margarito on April 12, 2008. Since losing his title the humble and resilient ex-champion has faced mostly world-class competition in sixteen fights—10 wins – 3 losses – 3 draws – 3 kos— including handing the feared Alfredo Angulo his first loss back in 2009.
The thirty-two year-old Brunson (24 wins – 6 losses – 2 draws – 22 kos) of Philadelphia – a gifted boxer and puncher joined the professional ranks on April 22, 2005. He made his way into the Guinness Book of World Records with nineteen consecutive first round knockouts in as many fights over a three year-span with the streak ending on August 15, 2008 when he was held to a six-round majority draw. Surprisingly, since his record breaking run, in thirteen fights Brunson has posted 5 wins – 6 losses – 2 draws – 3 kos—going through trainers faster than Snoop Dogg destroys ganja blunts at a recording session. Brunson has had more trainers than wins over the last nine years. Because of his talent and genteel nature, he is the pugilistic proportionate of a delightful damsel who is never devoid of a paramour. No surprise tonight he was auditioning another new trainer – Vaugh Jackson – the man who trained former welterweight title contender Mike Jones.
Cintron puts Brunson on the canvas
The fight began as a tactical match with the old warhorse Cintron pressing the action at the opening bell landing a few body shots as Brunson boxed from long-range. In the second round Brunson connected with a hellacious left hook that hurt Cintron forcing him to survive by grabbing and clutching the Philly fighter around his waist buying time to clear his head and continue pressing forward. Brunson squandered the perfect opportunity to end the fight. But, instead he continued to box from a distance until the round ended. Cintron was able to connect with a hard straight right in the third stanza that garnered Brunson's attention as he continued to use his jab while boxing on the outside. Midway in the fourth round Cintron caught Brunson with a left hook sending him to the canvas. As referee Clark counted, Brunson made it upright – shaken but able to continue. He was back on the ground shortly thereafter compliments of another left hook followed by a blistering right by Cintron. This time he was up as Clark tolled the count of four and beckoned for the action to resume as the gong sounded concluding the round – a fortuitous occurrence for the fallen fighter. Had there been more time on the clock – it is axiomatic that Cintron would have beckoned for the Fat Lady to start singing.
Cintron stepped on the tail of a sleeping lion. Because in the next round, a rejuvenated Brunson—finding his inner Tommy "The Hitman" Hearns—introduced him to the canvas with a straight right immediately followed by a left hook—a perfect combination. Cintron made it to his feet by the count of four and Clark dusted his gloves and signaled for the action to resume. Brunson wasting no time and looking like a baby Jersey Joe Walcott shuffled to Cintron and dropped him with a left hook-straight right combination. Again, the former world champion was able to make it to a standing position before referee Clark reached the count of six and the action resumed. Seizing the moment, Brunson morphed into "The Hitman" and unleased a vicious six-punch combination toppling his opponent to the canvas for the third time forcing referee Clark to a call a halt at 1:21—declaring Brunson the winner by technical knockout and the new Pennsylvania State Junior-middleweight champion. It is safe to assume that this fight is now the frontrunner for the Briscoe Award for "2017 Philadelphia Fight of the Year."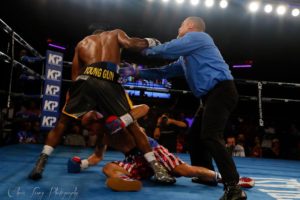 Brunson stands over a fallen Cintron.
Heavyweights Joel "The Quiet Storm" Caudle (7 wins – 0 losses – 0 draws – 5 kos) of Raleigh, North Carolina and Colby Madison (4 wins – 0 losses – 0 draws – 3 kos) of Owings Mills, Maryland fought to a spirited, entertaining six-round majority draw. Standing 5 feet 10 inches and tipping the scales at 267 lbs. – Caudle outweighed the much taller Madison by twenty-three pounds. Thus, he used his sizable weight advantage to pin Madison on the ropes where he unleashed shots to the body and head. The rounds were close as the action flowed back and forth with Caudle appearing to have a small advantage. There weren't any knockdowns or either fighter being in dire straits – one step away from getting knocked out. But, the bout was fought at a high pace with Caudle rolling forward like a mini Sherman tank- slipping shots and getting on the inside to out-punch his taller foe. But, Madison would rally at the end of the rounds with quick combinations making them difficult to score. When it was over two judges had it a draw 57-57 with the third scoring it 58-56 for Caudle—a majority draw.
In an exciting display of the sweet science featuring two undefeated prospects, Philadelphia lightweight Steven Ortiz (6 wins – 0 losses – 0 draws – 2 kos) and Tyrome Jones (4 wins – 0 losses – 0 draws – 1 ko) of South Bend, Indiana boxed brilliantly for six rounds in a tactical chess match with Ortiz scoring two knockdowns – winning a unanimous decision 59-53 twice and 57-56.
You could tell from the onset that this bout was going to be special as the combatants met in the center of the ring with the southpaw Jones matching Ortiz's hand speed. Every movement and every punch was tactical as both fighters slipped, countered and feinted. Ortiz found pay dirt with a hard right hand that momentarily rocked Jones who was able to recover rapidly and finish the round on even terms. The second round was identical to the first as the action was fast paced with both men displaying their offensive arsenal and defensive wizardry. In the third stanza Ortiz caught Jones with a perfectly timed straight right that sent him to the canvas with approximately thirty seconds remaining in the round. Before referee Clark could toll seven Jones reached his feet more upset than hurt and was able to finish the round on good footing.
The fourth stanza was fought at close quarters with both fighters ripping beautiful combinations to the head and body at a frenetic place. Lightning struck again when Jones hurt Ortiz with a combination—getting the upper hand— and walked into another straight right that sent him to the canvas for the second time. Jones got up at the count of six and continued rumbling with Ortiz until the bell rang closing the round. The fifth and sixth stanzas were equally intriguing and close as they fought at such a high level that I couldn't help thinking of the Sugar Ray Leonard vs. Wilfred Benitez fight. Ortiz won the fight and demonstrated that he deserves all the accolades as a top prospect. Jones earned the respect of his opponent and the audience that cheered throughout the fight. It was simply one of the best bouts I have witnessed between two undefeated and evenly matched prospects.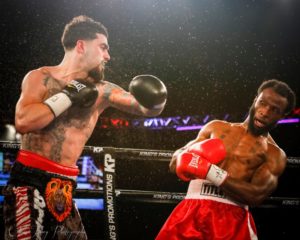 Ortiz (L.) launches the left hook
In a six-round super-middleweight bout, the supremely unpredictable Gregory Clark
(2 wins – 1 loss – 1 draw – 1 ko) of Washington, DC befuddled and beguiled Daryl Bunting (3 wins – 1 loss – 2 draws – 1 ko) of Asbury Park, New Jersey winning a unanimous decision by score of 59-55 twice and 58-56. The taller, rangy Clark boxed at long distance using his jab, evading punishment by motoring around the ring and changing directions with rapid fluidity round after round. Clark was perpetual motion – never slowing down as Bunting came forward in an attempt to land hard shots. But, Clark was simply too elusive and fleet-footed. Bunting just couldn't catch or corner him to unleash from his arsenal. Clark's performance wasn't pretty. But nevertheless, it was extremely effective because he was able to hit without being hit – win a decision by using his longer reach and quicker feet.
Philly lightweight Jerome "The Conqueror" Conquest (7 wins – 2 losses – 0 draws – 1 ko) had to get off the floor in the third round, maintain his composure and box his way to a unanimous six-round decision—winning 59-55, 58-56 and 57-56 over tough and relentless Jae Ho Kim (6 wins – 3 losses – 1 draw – 2 kos) of South Korea now fighting out of Philadelphia. The bout commenced with the southpaw Conquest having his way with Kim over the course of two rounds – using his jab – changing directions – landing the straight left – shaking up the Korean fighter having us believe that it wasn't going to go the distance.
I wasn't privy to the conversation in Kim's corner between rounds. But, he walked out at the start of the third stanza and with barely five seconds expiring in the round he connected with a picture-perfect straight right that formally introduced Conquest's gluteus maximus to the canvas. Somewhat surprised, Conquest was up almost immediately – mounted his customized bicycle and pedaled around the ring for most of the round stopping occasionally to throw his jab with Kim in hot pursuit. The fight which once appeared one-sided with Kim fading was now a competitive contest. Conquest settled into his role as the matador as Kim pressed the action as the gloved bull. When it was over, many of us in press-row had Conquest edging Kim 57-56.
Conquest (R.) connects with the right jab
With former IBF Light-heavyweight Champion "Prince" Charles Williams in his corner, nineteen year-old featherweight Chaise "Pretty Boy" Nelson (5 wins – 1 loss – 0 draws – 3 kos) of Mansfield, Ohio displayed his pugilistic prowess – out-boxing Jordan "The Kid" Peters (2 wins – 0 losses – 1 draw – 2 kos) of Washington, DC – using speed, lateral movement and a stiff jab to capture a unanimous four-round decision 39-37 on all three scorecards.
The bout commenced with Nelson setting the tone and tempo working behind an excellent left jab to the head and body of Peters who seemed one step behind. Nelson was able to land quick combinations and use his terrific foot speed to disappear before Peters had the opportunity to return fire. The Mansfield native boxed judiciously winning all three rounds heading into the fourth and final stanza. Peters won the last round by keeping his hands high pinned to his ears – cutting off the ring forcing his fleet-footed foe to engage. Thus, he caught and rocked Nelson with a hard right hand with approximately a minute left on the clock. I quipped in press-row that Nelson was about to snatch defeat from the jaws of victory after being up on the scorecard three rounds to zero. However, the teenager was able to clear his head and avoid being on the receiving end of any more devastating blows – closing the round out with a combination with ten seconds left in the bout. It was a beautiful performance by the young pugilist who has a bright future.
The last time Yonkers, New York lightweight Victor "El Flaco" Vasquez (7 wins – 3 losses – 0 draws – 3 kos) visited Philadelphia on August 5, 2016 – he upset Jerome Conquest winning a six-round unanimous decision in this building. Tonight, he had similar success again Philly's Anthony "Bad Boy" Burgin (10 wins – 3 losses – 0 draws – 2 kos) putting him on the canvas in the second round—garnering a six-round unanimous decision 58-55 twice and 57-56.
The taller Vasquez attacked at the opening bell going to the body pressing the action as Burgin—hands held high—circled and jabbed. The action heated up in the second round as Vasquez and Burgin traded toe-to-toe. It was during one of these exchanges that Vasquez connected with a right uppercut toppling Burgin to the canvas on both knees as though he had lost a contact lens and was attempting to retrieve it. Showing incredible recuperative powers, Burgin made it to his feet as referee Esteves reached the count of eight and the bell tolled ending the round. Vasquez captured the next round with the remainder of the fight being contested mostly at close quarters with both boxers trading on even terms with a slight edge to Vasquez.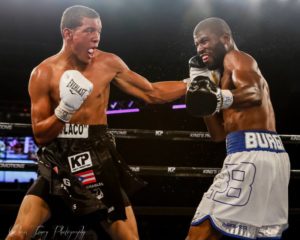 Vasquez (L.) connects with the left hook
Hard-punching Brandon "B-Rob" Robinson (3 wins – 1 loss – 0 draws – 2 kos) of Upper Darby, Pennsylvania answered the bell searching for the knockout in a scheduled four-round super-middleweight bout against Rafael Valencia (3 wins – 7 losses – 1 draw – 2 kos) of Medford, Oregon. He didn't disappoint his fans because after winning the opening round by landing some hard shots, Robinson was able to almost decapitate Valencia with a hard left hook immediately followed by a straight right that sent him to the canvas in the second stanza. Somehow, Valencia was able to pull himself off the floor as referee Clark reached the count of four, dusted his gloves and checked his vitals. Still in a daze, Valencia on spaghetti legs stumbled forward leaving the referee no other option but to call a halt to the bout at 2:48 – declaring the heavy-handed Robinson the victor by technical knockout.
Featherweight Marcus "Dream Crusher" Bates (6 wins – 0 losses – 1 draw – 6 kos) of Washington, DC – a dead-ringer for former bantamweight title contender – Philly legend – Johnny "Dancing Machine" Carter was able to overcome a somewhat rocky opening round to win a unanimous six-round decision 59-54 and 58-55 over tough Roberto Pucheta (10 wins – 11 losses – 1 draw – 6 kos) of Jalisco, Mexico. Pucheta was able to hurt Bates early in the opening round with a well-placed blistering straight right that wobbled him – his legs resembling those of a newly born calf attempting to stand. Pucheta instinctively pursued Bates who was able to hop on his Harley Davidson and motor around the ring and ride out the round.
The slick-boxing Bates took command in the second round boxing beautifully using his jab – going downstairs to the body – landing in Pucheta's bread basket with some hard shots. He continued to have his way in the third round as Pucheta bled from the nose a result of getting hit with too many stiff jabs. The Mexican was unable to enjoy the success he had at the beginning of the fight and appeared somewhat frustrated. Thus, in the fourth round he started talking – beckoning Bates to stand and fight. However, Bates continued to out-box his adversary instead of falling victim to machismo by standing toe-to-toe in a war of attrition.
Bates (R.) lands the right.
Bates continued his dominance in the fifth round and was able to put Pucheta on the canvas with barely thirty seconds remaining in the stanza with a counter left hook that landed squarely on the side of his head. Pucheta reached his feet as referee Clark was about to reach the count of four. And almost immediately, the gong sounded ending the round. Pucheta was able to pin Bates on the ropes in the last round and connected with a hard right to the ear that somewhat disrupted his equilibrium forcing him to hold for a few seconds before using his legs and lateral movement to finish the round. No surprise that Bates won this entertaining bout featuring contrasting styles.
It was another exciting night of the sweet science in the City of Brotherly Love – The Capital of Boxing. Tyrone Brunson was able to ward off the naysayers with an impressive stoppage of Kermit Cintron. Hopefully, he will be able to live up to his full potential and wreak havoc in the junior-middleweight division all the way to a world title. We might as well order a bottle of anointing oil for Steve Ortiz who was impressive in out-boxing and defeating a formidable foe in Tyrome Jones. Ortiz should be on everyone's radar!
If you read this far you are probably wondering about the "Papa Smurf and the Frog" headline. In 1983, singer/musician the late Tyrone Brunson had his electro instrumental "The Smurf" reached #14 on the Billboard R&B chart – a huge hit in the night clubs and college campuses creating a dance of the same name. How ironic that a fighter – with the same name as the successful musician got his biggest hit against a fighter whose name is associated with a famous frog?
I guess I am a purveyor of useless information and absurd connections. This is what happens when one has a keyboard and something to say.
Thanks for reading.
Continue to support the sweet science, and remember, always carry your mouthpiece!
ghanson3@hotmail.com