The Mouthpiece
                    Joltin' Jeff in the House!—Lundy Hammers Evangelista Jr. – Ennis Stops Acuna                                                  
By: George H. Hanson Jr., Esq.
Date:                       Friday, June 2, 2017
Venue:                   2300 Arena – Philadelphia, PA
Promoters:           Peltz Boxing, CES Boxing, BAM Boxing, Raging Babe & Joe Hand Promotions
Coverage:              Gofightlive.com
Commentators:   Marc Abrams & Mike Mittman
Ring Announcer:   Steve Mittman
Referees:              Gary Rosato and Blair Talmadge
Photos:                 Rubi Lucchese
It has been a long time since lightweight contender Hammerin' Hank Lundy (27 wins – 6 losses – 1 draw – 13 kos) fought in his hometown – "The Capital of Boxing" – "The City of Brotherly Love" – Philadelphia. The last time was September 26, 2009 when he scored a sixth round technical knockout over Justo Sanchez in a scheduled ten-rounder bringing his record to 16 wins – 0 losses – 1 draw – 9 kos. Thus, tonight was billed as a "Homecoming" for the colorful, flamboyant fighter brash, bold and supremely confident that he was going to stop Daniel Evangelista Jr. (20 win – 7 losses – 2 draws – 16 kos) of Mexico City, Mexico.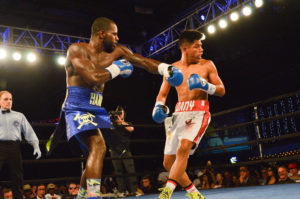 Lundy (L.) connects with the left hook
With the building packed to capacity—tighter than a Cactus Night Club on a Saturday night in Portmore, Jamaica—and former WBA Bantamweight Champion—Hall of Famer—Joltin' Jeff Chandler and his lovely fiancé Diane, two-division World Champion Bernard "The Alien" Hopkins, super-middleweight contender Jesse "Hard Work" Hart and the ubiquitous Simon "One Punch" Carr comfortable in their ringside seats—Lundy strolled to the ring with his entourage like an Oscar winning actor going to the stage to collect his award with his supporting cast. His countenance was that of a man focused on a serious mission. And, we all knew that there was a higher probability of it snowing on this balmy spring night than Evangelista Jr. making it to the final bell of the scheduled eight rounder.
The gong sounded and Lundy, hands at his sides, connected with the jab as Evangelista Jr.— hands held high—calmly came forward calibrating the attack— attempting to get a reading on his much swifter and stronger opponent. Lundy controlled the action landing to the head and body with sweeping left hooks and the occasional right lead. Despite being out-gunned Evangelista Jr. seemed unfazed connecting with a good straight right at the end of the third round. The action continued at the same pace with the Philly fighter getting the better of the exchanges. As fate would have it, the fifth round followed a similar script when Evangelista Jr. connected with two lead rights that caused Lundy to go ballistic. He pinned Evangelista Jr. on the ropes and blasted him with a left hook-right hook- left hook combination that drove the Mexican pugilist to the canvas sideways. Surprisingly and courageously Evangelista Jr. was able to beat the ten-count and was on his feet at eight. However, referee Rosato determined that it was in the fighter's best interest to call a halt to the bout and declared Lundy the winner by technical knockout at 2:53 of the fifth round.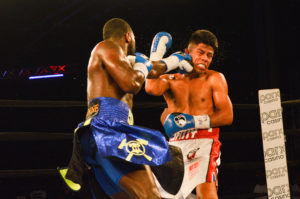 Lundy (L.) landing the jab on Evangelista Jr.
Undefeated cruiserweight Alvin "Iron Majik" Varmall Jr (10 win – 0 losses – 1 draw – 8 kos) of Catskill, New York did a great impression of the great "Iron" Mike Tyson making short work of Juan Reyna (6 win – 6 losses – 1 draw – 2 kos) dropping him—winning by technical knockout at 2:02 of the opening round of the scheduled six-rounder. Standing 5 feet 8 inches—Varmall, both gloves pinned to the side of his head—mimicking the ear-muff defense of Tyson—attacked early whacking away at Reyna's body—sending him to the canvas with an overhand right. Reyna was up as referee Talmadge reached the count of six—dusted his gloves and motioned for the fight to resume. Varmall pinned him to the ropes and unloaded with both fists forcing Reyna to crumble to the canvas and Talmadge to call a halt to the one-sided affair.
For those who are up in arms regarding my proclamation earlier during the week that undefeated 19 year-old Philly Phenom Jaron "Boot" Ennis (11 wins – 0 losses – 0 draws – 9 kos) is more talented than welterweight kings Keith "One Time" Thurman and Errol "The Truth" Spence combined—learn to live with it! Everything is copacetic baby; don't get mad because I am reporting the obvious. And tonight, in a scheduled six-round welterweight bout, Ennis did exactly as expected—gave us a glimpse of his supreme talent, destroying Wilfredo Acuna (16 wins – 20 losses – 0 draws – 12 kos) of Managua, Nicaragua.
The southpaw Acuna came forward at the opening bell as Ennis circled, jabbing then abandoned the orthodox stance joining his opponent as a southpaw. Acuna walked into a quick counter right hook that sent him to the canvas. He was able to reach his feet as referee Talmadge reached the count of three, checked his vitals, dusted the gloves and motioned for the action to resume. Seizing the moment Ennis shuffled to his adversary like a southpaw Jersey Joe Walcott dipped his shoulders to the right and ripped a right uppercut from the southpaw stance to Acuna's solar plexus. The punch landed with severe impact taking all the air out of the southpaw's sails forcing Acuna to the canvas on one knee wincing in pain for a ten-count. The fight was over with one body shot! This is "One Time" I will exercise brevity in telling "The Truth" that Ennis is the best welterweight on the planet.
Ennis (L.) landing the jab
In a four-rounder featuring debuting junior-middleweights the entire press-row had Ishmael Altman besting Tyree Crowder —pitching a shut-out against the Philadelphian in a close competitive fight. However, we all were overruled by all three judges who saw it identical 38-38 – a draw. With "The Boxfather"—trainer Skip Crumpler along with Don Turner and former heavyweight title contender Michael Grant in his corner—the twenty-one year-old Altman of Arapahoe, North Carolina took control in the opening round with his long left jab. He controlled the pace and action backing up Crowder, going downstairs to the body with Crowder retreating throwing occasionally. With professional fighter/trainer Greg Hackett—serving as assistant to the ring card ladies—yelling instructions in front of press row—Crowder responded in the final round by being busier —landing a few shots. However, we still scored the round for Altman. It is safe to assume that press-row didn't see what the judges saw because Altman should have been awarded the decision.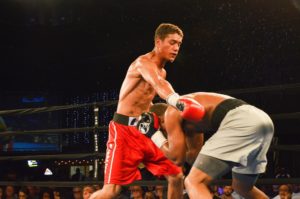 Altman (L.) throws the jab
In a rematch of their April 27th match in North Carolina, undefeated lightweight Marklin Bailey (4 wins – 0 losses – 0 draws – 3 kos) of Durham faced Vinnie Denierio (1 win – 1 loss – 0 draws – 1 ko) of Geneva, New York in another four-round bout. In their previous encounter Bailey won a unanimous decision. The southpaw Denierio decked out in the Italian-flag trunks was the busier fighter in the opening rounds having the edge—landing combinations—controlling the fight with his jab. Marklin—a dead-ringer for former two-division world champion Yuriorkis Gamboa—kept his distance looking for an opening, occasionally throwing his jab. However, in the third round Bailey found his mojo and hurt Denierio with a right hand counter and a left hook to the body. He found similar success in the final round as he pressed the action showing a sense of urgency. One judge had it 38-38 similar to my score with the other two scoring it identical 39-37 – a majority decision victory for Bailey in an exciting bout.
Bailey (L.) and Denierio mixing it up
Philly junior-middleweight Isaiah Wise (4 wins – 1 loss – 0 draws – 3 kos) was impressive in dominating undefeated Mark Daniels Jr. (3 wins – 0 losses – 0 draws – 1 ko) of Crandon, Wisconsin winning every round on my scorecard taking a unanimous six-round decision 60-54 and 59-55 twice. Wise pressed the action at the opening bell, blanketing Daniels, forcing him to retreat, working the head and body slipping shots as his opponent countered. At times Wise brought back found memories of Mike "The Body Snatcher" McCallum and Pernell "Sweet Pea" Whitaker as he landed to his opponent's mid-section while moving his head, slipping shots to avoid punishment. It was a masterful performance of the sweet science as he made Daniels uncomfortable and unable to mount a meaningful counter-attack. Round after round Wise stayed the course using his jab, landing to the body. Daniels made the fifth round close by matching Wise's output. It was a complete performance by Wise who handed Daniels his first setback.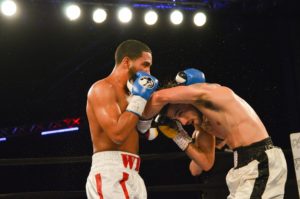 Wise (L.) on the attack.
In a four-round featherweight bout 19 year-old Crystian Pequero (1 win – 0 losses – 0 draws – 1 ko) of Philadelphia won a unanimous four-round decision 40-36 twice and 39-37 over Saquan Felton (0 wins – 1 loss – 0 draws) of Rochester, New York. Pequero came out bombing at the opening bell connecting with left hooks and straight rights – going to the body with power and precision. He was all over Felton like an eagle swooping down on a rabbit in the middle of an open field. Pequero pressed the action, hell-bent on separating Felton from his senses and scoring a knockdown. But, Felton showed his defensive prowess and strong will by countering with his jab and absorbing hard body shots, rallying in the final round which was close. It was another impressive win for the young pugilist who is all action at the opening bell.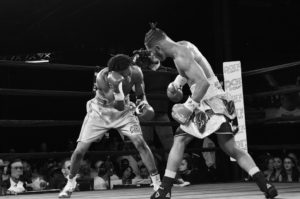 Pequero (R.) looking for an opening
There must be something in the water at ABC Recreation Center in North Philadelphia because trainer Fred Jenkins keeps rolling out really good fighters like an assembly line at a Detroit auto plant. And tonight with Jenkins in his corner junior-middleweight Marcel Rivers (1 win – 0 losses – 0 draws – 1 ko) looked like a seasoned professional, out-boxing and out-thinking former amateur standout Jamaal Gregory (1 wins – 0 losses – 0 draws – 1 ko) of Charlotte, North Carolina in a tactical chess match that had the boxing Gods smiling. The twenty-two year-old Gregory entered the ring decked out in a white leather ensemble trimmed with white fur on the sides—taking all the sartorial points on my unofficial fashion scorecard. But, it was the 29 year-old rivers that came forward working behind his jab capturing a close opening stanza against his taller foe. Rivers dislodged Gregory's gum shield twice in the second stanza with left hooks and sent him to the canvas in the third round with an overhand right. Somewhat shaken, Gregory got up as referee Talmadge tolled the count of two and the fight resumed.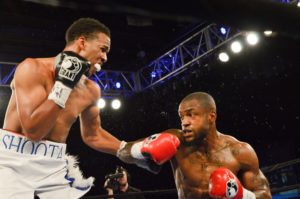 Rivers (R.) on the attack
Gregory demonstrated a sense of urgency in the fourth and final round attacking at the bell—standing toe-to-toe in an attempt to score a knockout. However, Rivers wasn't going to allow the momentum to shift and lose in front of his hometown crowd as they rumbled and rocked each other with hard punches. It was an exciting finish to a titillating four-rounder between two skilled pugilists. All three judges scored it 39-36 for Rivers who won a unanimous decision.
In a monumental upset that left the building so silent that you could hear a mouse pissing on cotton, Newark, New Jersey junior-welterweight Dion Richardson (1 win – 1 loss – 0 draws – 1 ko) coming off an almost four-year hiatus stopped undefeated Scott Kelleher (5 wins – 0 losses – 0 draws – 3 kos) of Philadelphia dropping him three times in the opening round of the scheduled four-rounder— fracturing his nose—forcing referee Rosato to call a halt at 2:19 of the opening stanza declaring Richardson the winner by technical knockout.
Kelleher, a classic boxer with a huge fan base was returning after an almost 13-month lay-off. His last fight was in the same ring last year May 6th – a third round technical knockout victory over Terrell James. Oftentimes, the opening round is the most difficult especially for a boxer who has been on the shelf for a long time.
The bell rang and the combatants met in the center of the ring with Kelleher working behind his jab. They were in a heated exchange when Richardson blasted Kelleher with an overhand right sending him into the ropes which prevented him from hitting the canvas—referee Rosato adhering to the rules—rightfully ruled it a knockdown. The action resumed and Richardson instinctively seized the moment and connected with another right immediately followed by a lethal left hook that sent Kelleher to the canvas—his nose bleeding profusely—blood dripping to the canvas as he showed his mettle getting up as the referee reached two and decided that it was alright for the fight to continue. Kelleher was hurt and he would have to hold to survive the round. But, Richardson never wavered and stepped to him with another straight right that found its mark causing a third knockdown and the end of the fight.
Richardson (R.) moving in on Kelleher
A wave of silence engulfed the audience and you could hear crickets fornicating in the grass outside the venue. And we can only guess that Uncle Russell—promoter J. Russell Peltz had a minor cardiac arrest.
It was another exciting night of boxing as the capacity crowd enjoyed the action. Hank Lundy is always first to remind everyone that "you haven't been hit until you've been hit by the Hammer." And tonight he lived up to his words by disposing of Daniel Evangelista Jr. in fantastic fashion continuing his quest for a world lightweight title. But, Dion Richardson reminded everyone that "anything can happen in the squared circle." It is dubious that anyone foresaw his upset of undefeated fan-favorite Scott Kelleher confirmation of the old adage that "records don't beat you, fighters do."
Continue to support the sweet science, and remember, always carry your mouthpiece!
ghanson3@hotmail.com