TENSION ESCALATES BETWEEN FLOYD MAYWEATHER AND CONOR McGREGOR IN TORONTO ON SECOND STOP OF BLOCKBUSTER WORLD TOUR
Capacity Crowd Of Estimated 16,000 Fans Pack Toronto's Budweiser Stage As Mayweather and McGregor Meet For Just The Second Time
"If you believe in yourself like you say you believe in yourself, bet your whole fight check." – Mayweather
"One shot is all it takes.  Check the facts – I bounce heads off the canvas." – McGregor
Photo Credits Esther Lin Showtime Sports & Edris Erba Mayweather Promotions
TORONTO (July 13, 2017) – WHOA!  Well, here we go.  It did not take long for two of the greatest athletes and entertainers in their respective sports to start exchanging heated verbal jabs.  This is what fans were waiting to see, and an estimated 16,000 fans packed Toronto's Budweiser stage to see boxing legend Floyd Mayweather and UFC superstar Conor McGregor meet face to face for just the second time on Wednesday as the global stars continued their blockbuster World Tour to announce their Aug. 26 showdown on SHOWTIME PPV from T-Mobile Arena in Las Vegas.
Mayweather and McGregor, who met for the first time on Monday in Los Angeles, immediately turned up the heat in their second meeting on Wednesday jarring toe-to-toe for more than three minutes in the initial face-off in front of a largely pro-McGregor crowd in Toronto.
Multi-platinum and GRAMMY Award-winning recording artist Drake made a special guest appearance in front of his hometown Toronto fans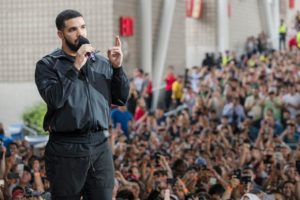 "To witness history" for an event to celebrate what he called "the biggest fight in the history of fighting."
Here are some highlighted quotes and photos from the heated press tour in Toronto:
FLOYD MAYWEATHER:
"We're not talking about being at the top for one year, two years, three years, four years. We're talking about 21 years.
"Turn the pressure up. I don't quit, I don't fold under pressure. I'm the best and I know I'm the best.
"If you believe in yourself like you say you believe in yourself, bet your whole fight check."
CONOR MCGREGOR: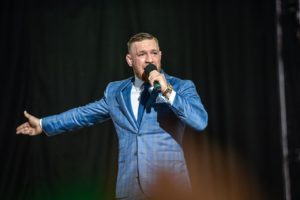 "I thrive in uncomfortable positions. There is nothing these guys can do to phase me. Twenty-eight years of age, I'm getting fight checks and promoter checks. When Floyd was 28, he was on Oscar De La Hoya's undercard and that's just facts.
"Toronto, what a city. I was here one time, I was also on a world tour. I was also facing an unconquerable quest. I was facing the best pound-for-pound fighter on the planet, Jose Aldo. They said the same things then as they're saying now. They said I have no chance. They said I'm in over my head. They said [he] kicks too hard, too many weapons. The Irishman is going to fall short, he doesn't stand a hope. It took me 13 seconds.
"One shot is all it takes. Check the facts. I bounce heads off the canvas.
"He tip-tap-toes to a decision. He's never fought a day in his life, he's a runner."
The Mayweather vs. McGregor World Tour continues Thursday at Barclays Center in Brooklyn, NY and concludes on Friday at Wembley Arena in London.
For more #MayweatherMcGregor updates check in with www.cboxinginfo.com and Follow us on Social Media @cboxinginfo