Long Island, NY (November 2017) – Brooklyn's Daniel "Miracle Man" Jacobs, Jarell "Big Baby" Miller, and Cletus "The Hebrew Hammer" Seldin earn wins at Nassau Veterans Memorial Coliseum in Long Island, NY.
Jacobs 33-2 (29 KO's) put in a yeoman's type effort in handing Luis Arias 18-1 (9 KO's) his first defeat.  Coming off a tremendous performance against GGG eight months ago, Jacobs needed to work off some ring rust.  The previously undefeated Arias was the perfect opponent.   In the forst round, Jacobs patiently worked behind his jab, and caught Arias with a right hand.  Arias was obviously hurt, but Jacobs was unable to close the show for an early KO.
In rounds three, four, and five, Jacobs fought uninspired, but closed each round with devastating flurries.  Arias turned up the heat, and held his own in round six, but he did not have enough to do anything but make Jacobs yell and talk trash to the less talented Arias.
Jacobs controlled rounds seven through twelve, and he scored a flash knockdown in the eleventh round.  After twelve rounds of paid sparring, the judges awarded Jacobs the UD win with scores of 120-107, 119-108 and 118-109.
This was Daniel Jacobs first fight with super, British promoter Eddie Hearns.  While Jacobs was disappointed in not getting a knockout in a very unspectacular performance, Jacobs and Hearns are excited about their future together:  "I want to stay active, because we have major plans," said Jacobs.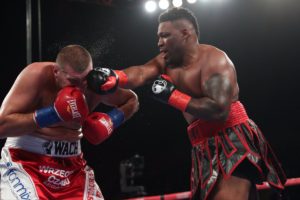 Jarell "Big Baby" Miller strode into Nassau Veterans Memorial Coliseum without much fan fare, and after nine painful rounds of heavyweight boxing, Miller left in the same manner.
On a night when Miller 20-0-1 (18 KO's) had the attention of heavyweight boxing world.  He might have let the opportunity slip away with an Ambien type performance.  Miller, in his own words, "stopped Wach earlier than any other fighter, and did what he needed to do and got the win.  A win is a win."
Over nine rounds, Miller landed at will on the six foot seven Wach 33-3 (17 KO's), but it was Miller's lack of aggression or unwillingness to throw combinations that turned off a large live audience and many worldwide, HBO viewers.  Wach, who hasn't fought since March, and has only fought twice in two years, looked every bit thirty seven years old.  Wach punched sparingly, and in return, ate as many punches as Miller was willing to throw.  Miller backed Wach into the ropes multiple times, but he failed to let his hands go, and in doing so, he earned some boos, and lost the confidence of many fans in his ability to compete with some of the best heavyweights.
When Miller did throw, he landed at will.  He sat in the pocket, and with deft head movement, he made Wach miss terribly.  But, Miller's lack of killer instinct and willingness to fight like a Welterweight made for an awful fight.  Miller connected and made Wach miss enough the NYCAC doctors had long serious looks at Wach from the end of the seventh round until it was finally stopped in the ninth.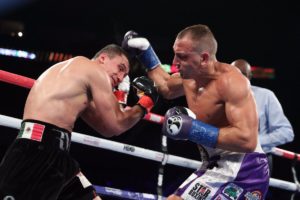 Cletus "The Hebrew Hammer" Seldin 21-0 (17 KO's) put a pro New York boxing crowd into a frenzy with a scintillating performance.  Seldin cracked Roberto Ortiz 35-2 (26 KO's), and put him down in the first fifteen seconds of the first round with a big right hand.  Seldin kept up his attack, and forced Ortiz to take a knee later in the round.
While Ortiz survived the initial onslaught, Seldin stayed poised, and kept up the pressure whacking Ortiz in the face with multiple big punches.  After three rounds of brutal punishment and a nasty cut from "The Hebrew Hammer," the doctor advised the referee to stop the fight at 2:43 of the third round.