Greenville, NC (October 14) – Hurricane Matthew had devastating destruction in North Carolina forcing many people to evacuate, businesses and schools to be closed, and the cancellation of many routine activities.
Having a strong concern for the safety of the people, Stop Running Promotions and East Carolina decided to reschedule the October 15 event at Minges Coliseum.
The following statement was released:
"As you may be aware Stop Running Promotions October 15th Event has been Reschedule due to the current flooding in the Greenville and surrounding Area.
The new date for ECU will be December 10. Anyone who has purchased tickets will be sent an email next week to notify them of the Date change.
ECU does not do refunds so all tickets will be valid for the December 10 show.
However Stop Running Promotions will be Hosting another event on October 22 in Raleigh NC at Abundant Life Center 4400 Old Poole Rd Raleigh NC, 27610.
"Matthew's Aftermath" will be an event that will use a portion of the proceeds to go to Disable Veterans Association and The Hodge-Hodges Foundation in support of the Individuals affected by Hurricane Matthew. We will also be excepting any donations which will go to family affected by Hurricane Matthew.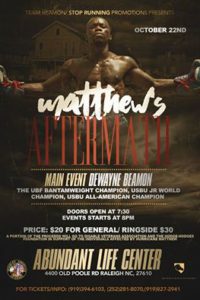 Ticket prices are $30 for Ringside and $20 for General Admission. Doors open at 7:30pm, event starts that 8pm. Event plans to be over by 11pm.
For anymore questions or concerns please call or e-mail Yessica at (919)394-6103/ Stoprunningboxing@gmail.com