National Harbor (May 20) – From the MGM National Harbor "Mr." Gary Russell Jr., (28-1, 17 KOs) had a successful homecoming in front of a nearly sold out crowd as he defended his WBC Featherweight World title with a seventh-round stoppage against the very tough, strong-willed Columbian Oscar Escandon (25-3, 17 KOs) in the main event of SHOWTIME CHAMPIONSHIP BOXING.
Russell Jr. took control of the action from the outset, peppering the shorter Escandon at will and dropping him in the third.
However, the brave Escandon fought his way back into the fight in the fourth and fifth stanzas, but Russell stormed into the seventh, battering the hurt Escandon and dropping him early, causing referee Harvey Dock to stop the fight at the 0:59 mark of the round.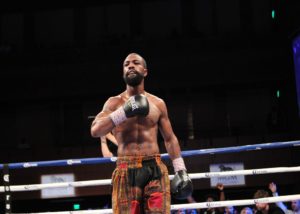 Photo Credit: Tom Casino/SHOWTIME
About the victory, Russell Jr. said, "First and foremost, I want to say happy birthday to my father. Secondly, I'd like to tell all the fans that came to support me: I love you all. Thank you.  "I fought a tough competitor. I knew Escandon wanted to come and bring his best. I knew he was going to come forward. I was ready for him. We are warriors."
"I want Lomachenko, that's a no-brainer. I don't want to do it for the fans or for the media, I want to do it for myself. And I want to do it twice. I'll knock him out the first time and then, he'll want me to fight him again."
"I'd love to unify against all the other guys in the featherweight division. I'd like Leo Santa Cruz, Lee Selby, Oscar Valdez."
A disappointed Oscar Escandon had this to say, "I was getting my rhythm going and I felt like Gary was getting tired. I didn't see him coming with the big punch he threw at the end and that was it. I went down and was hoping to get a 10 count, but the referee didn't give it to me and he stopped the fight."
"I knew that Gary was going to go fast from the first to the fifth round and it was part of my strategy to let him do that and get tired. It didn't work unfortunately."
"Now we need to go back to the drawing board to rest and see what my manager has planned for me."
Said trainer and father Gary Russell Sr., "I'm ecstatic. I'm really happy. I got three wins. Three stoppages. It's my birthday. I'm 15 minutes from home and I can go home and relax."
"We prepared fully for Mr. Escandon. We knew he was going to do what he did – come forward. I don't want to diminish or take anything away from Mr. Escandon. He really is a hard, rough fighter. Throughout the course of the fight, I instructed Gary to hit him with some good shots. Some hard shots. It is a brutal sport."