The Mouthpiece
Y'all Musta Forgot!—Jones Stops Gunn
Islam Halts Assis
By: George H. Hanson Jr., Esq.
Date: Friday, February 17, 2017
Venue: Chase Center, Wilmington, Delaware
Promoter: David Feldman Promotions
Ring Announcer: Mark Fratto
Coverage: Pay-per-view
Commentators: Marc Abrams & Rich Quinones
Matchmaker: Nelson Lopez
Referees: Bill Clancy & Vic DeWysocki
Photos: Darryl Cobb Jr.
When we all are gone reduced to bones, dust and ashes – the written word will remain for all to read and be transported in the moment that was intended. On Tuesday, promoter David Feldman lost his father – manager/trainer and Philadelphia Legend – Marty Feldman who passed away at the age of eighty-three. In his time of mourning Feldman wasn't going to deny the fans the joy of witnessing one of the greatest pugilists perform in their hometown. Thus, if you are still reading, take a seat relax and don't be in such a hurry to get through this article. Allow me to set the stage before taking you into the ring to watch Roy Jones Jr.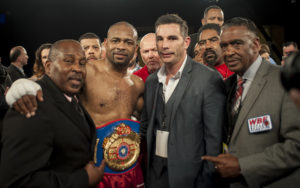 (L-R) Greg Hackett, Jones, Feldman & James Gibbs Jr.
Like the fans, I wanted to be on the right side of history being able to claim that I was in the building to witness a forty-eight year-old Jones display his wares regardless of how far removed he is from his supreme prime when he was virtually untouchable. This would be my second time covering Jones. I was in Madison Square Garden on November 8, 2008 when Jones dropped a one-sided unanimous twelve-round decision to Joe Calzaghe after putting him on the canvas in the opening round. He should have stopped Calzaghe but for some inexplicable reason he was unable to unload on the Welshman after putting him down.
Tonight, the capacity crowd stood in unison, camera phones in hand snapping pictures, as Jones (64 wins – 9 losses – 0 draws – 46 kos) hailing from Pensacola, Florida made his way from the dressing room into the squared circle. Billed as "Skill vs. Will" – ten rounds for the World Boxing Foundation World Cruiserweight title he was joined by forty-three year-old Bobby "The Celtic Warrior" Gunn (21 wins – 6 losses – 1 draw – 18 kos) of Niagara Falls, Canada who made his ring walk as the traditional bagpipe music blared over the house speakers. Gunn, raised by nomadic gypsies, is a two time world cruiserweight title challenger and is the widely-recognized king of underground bareknuckle boxing which is illegal.
The gong sounded and Jones in his famous stance – outstretched arms – jabbed and circled occasionally leaping in with left hooks as Gunn came forward. There wasn't much action as both combatants were comfortable with the pace of the customary feeling out round. Jones used his superior speed to keep the advancing Gunn at bay over the course of the bout – peppering him with jabs, lead left hooks, straight rights tying him up whenever he was within reach – talking to the audience throughout the bout. Gunn was always a step behind even though he came close to landing his own left hook and straight right.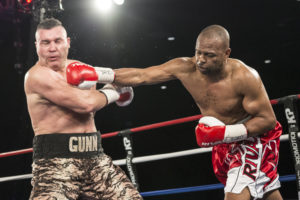 Jones (R.) connecting with the straight right.
It was a dominant performance by Jones who despite "Father Time" stealing much of his speed and timing is still faster than the overwhelming majority of fighters in the cruiserweight division. He turned back the hands of time in the fifth round when he landed four lead rights with much precision and power disappearing before Gunn could counter. The indefatigable Gunn came forward and Jones settled in his role as the gloved-matador – sidestepping – pulling back and countering. Toward the end of the seventh round, Jones buckled Gunn with a blistering straight right and a vicious left hook. Gunn was in serious trouble but instead of jumping in to close the show – Jones kept his distance and continued boxing from a distance. Gunn made it to the bell and back to his corner. He was on his feet ready to walk out for the eighth round when his corner ushered him back calling an end to the fight. Referee Clancy declared Jones the winner by technical knockout three seconds in the eighth round.
While Roy Jones Jr. was patient in defeating Bobby Gunn, undefeated junior-middleweight Kanat "The Kazat" Islam (22 wins – 0 losses – 0 draws – 18 kos) of Kazakhstan now fighting out of Pahokee, Florida appreciated the gravity of circumstances that he grappled with twenty seconds into the opening stanza of the scheduled ten-rounder against Robson Assis (16 wins – 3 losses – 0 draws – 9 kos) of Sau Paulo, Brazil. Islam, a 2008 Olympic Bronze Medalist representing China, clashed heads with his southpaw adversary early in the first round causing a deep gash over his right eyed that bled profusely.
Referee DeWysocki ruled it an accidental head-butt. If the fight is stopped prior to the conclusion of the fourth round –it would be declared a technical draw. After the fourth stanza the outcome would be decided by the scorecards. Based on the severity of the cut – there was a better chance of it snowing in Jamaica than Islam making it to the fourth round. Seizing the moment, realizing that time was the enemy – Islam attacked Assis with reckless abandon unleashing from his vaunted arsenal engaging in a shoot-out. In the midst of a heated exchange he connected with a murderous right that hurt the Brazilian immediately following with another vicious right that crashed off his chin sending him sprawling on his back. Assis rolled over on his elbows unable to beat the ten-count as DeWysocki declared Islam the winner by knockout at 2:12 of round one.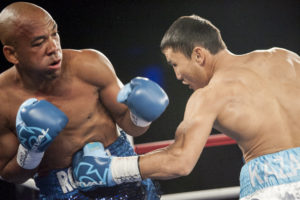 Islam (R.) landing the left hook to the body.
In the opening bout of the night, undefeated junior-featherweight Dagoberto Aguero (10 wins – 0 losses – 0 draws – 8 kos) of the Dominican Republic showboated, boxing with his hands below his waist proving somewhat too slick for the shorter Olimjon Nazarov (14 wins – 4 losses – 0 draws – 8 kos) of Uzbekistan now fighting out of Las Vegas. Aguero used his jab to keep Nazarov on the outside dropping the overhand right on him whenever there was an opening. Nazarov came forward throwing with bad intentions forcing Aguero in a toe-to-toe rumble in the fourth round. Aguero accorded himself quite well fighting on the inside proving that he was equally adept at combat at close quarters.
Aguero went back to fighting at long range for the remaining two rounds of their scheduled six-rounder pitching a virtual shut-out on my scorecard in impressive fashion.
However, one judge had it a draw 57-57 but was overruled by the others who scored it 59-55 and 58-56 for Aguero who garnered a majority decision.
With Roy Jones Jr. as the lead trainer in her corner Ikram Kerwat (6 wins – 1 loss – 0 draws – 5 kos) from Tunisia now fighting out of Frankfurt, Germany was simply too skilled, and too technical for the aggressive Britain "The Blond Bomber" Hart (2 wins – 0 losses – 0 draws – 2 kos) of Bedford, Virginia. Hart came out of her corner like a heat-seeking missile throwing bombs at the opening bell. But, Kerwat used angles and quick counter-punching to out-land Hart whose defense was somewhat deficient. Round after round Hart came forward throwing punches with bad intention. However, Kerwat demonstrated excellent boxing abilities by using her longer reach and an effective jab and counter right hand to upstage her opponent. It was an action-packed fight with Kerwat proving that she was the superior fighter. What Hart lacked in skills was more than compensated with her sheer will and intestinal fortitude which made the fight entertaining and competitive. Kerwat, who has a future as a fashion model, won a unanimous decision 40-36 on all three scorecards.
Delaware's favorite son, lightweight "Joltin" Joe Tiberi (13 wins – 2 losses – 0 draws – 5 kos) returned to action after a 26-month hiatus in a scheduled four-round bout against Bryan Timmons (5 wins – 8 losses – 0 draws – 5 kos) of St. Joseph, Missouri. There wasn't much action in the opening stanza as Tiberi attempted to shake the ring rust engaging in a few exchanges early. It was a pedestrian pace over the next two rounds with Tiberi getting the better of Timmons by connecting with the left hook. In the final round Tiberi hurt Timmons with a few body shots and pounced on his opponent wailing away for about twenty seconds until referee DeWysocki called a halt to the action at 2:04. Tiberi won by technical knockout in a successful return to the squared circle much to the delight of his adoring fans.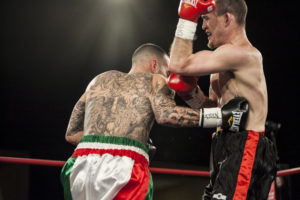 Tiberi (L.) landing the right hook to the body.
In a rematch scheduled for four rounds, cruiserweight Henry Stewart (2 wins – 0 losses – 0 draws – 1 ko) of Ontario, Canada squared off against Martez Williamson (3 wins – 15 losses – 0 draws – 0 kos) of Akron, Ohio. In his second professional fight on May 27th last year – Stewart defeated Williamson by unanimous four-round decision. Tonight, there wasn't much that separated the two combatants as the rounds were extremely close
with Steward using his jab and lateral movement to offset the supremely awkward Williamson. I scored it a draw 38-38 similar to one of the judges. However, the remaining two judges had it 39-37 for Steward who got the nod and a majority decision victory.
In a scheduled four-rounder for the Delaware State Cruiserweight title Dan "Bada Bing" Biddle (9 wins – 5 losses – 0 draws – 5 kos) of Wilmington, Delaware returned to action after an almost 15-month layoff to face Lamont "The Problem Solver" Singletary (7 wins – 1 loss – 0 draws – 4 kos) of Dover, Delaware whose hiatus exceeded Biddle's by almost one year. The bout began with both fighters probing for an opening with their jabs. Midway through the round Singletary connected with a straight right that hurt Biddle. Wasting no time – taking advantage of the opportunity – Singletary went after Biddle throwing hard shots and "bada bing, bada boom" he bounced a hard right off the side of his head sending him to the canvas sunbathing on his back. Referee DeWysocki counted out the prostrate Biddle declaring Singletary the winner by knockout 1:49 of the opening round.
Reading, Pennsylvania's junior-lightweight contender Frank DeAlba (20 wins – 2 losses – 2 draws – 9 kos) won a unanimous six-round decision 60-54 on all scorecards over 97-fight veteran German Meraz (55 wins – 41 losses – 1 draw – 32 kos) of Sonora, Mexico. The southpaw DeAlba pressed the action at the opening bell working behind his jab and going downstairs to the body. The rounds were identical with Meraz giving ground as DeAlba came forward landing the straight left to the body. No surprise when the decision was announced in favor of DeAlba.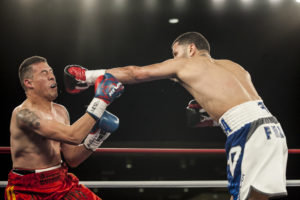 DeAlba (R.) connecting with the straight left.
It is my philosophy not to reward a rooster for crowing at dawn or pay homage to a fish for swimming. They are merely doing what is instinctive. Thus, despite scoring an eighth-round technical knockout victory – there should be no celebration or parade in Pensacola, Florida for Roy Jones Jr. He defeated a forty-three year-old fighter whose last bout was thirty-eight months aback – December 18, 2013. The packed arena was merely a testament to the memory of Jones' ungodly talent that led him to dominate the boxing landscape for almost fifteen years capturing world titles in the middleweight, super-middleweight, light-heavyweight and heavyweight divisions. We must remember that a steak thrown in the direction of a hungry lion has a better chance of remaining intact for a longer duration than the current representation of Jones lasting against himself in his prime.
"Y'all musta forgot!"
Rest in peace Marty Feldman (October 25, 1933 – February 14, 2017). You will live forever in our hearts, in our minds, and in our stories.

Continue to support the sweet science, and remember, always carry your mouthpiece!!

ghanson3@hotmail.com