The Mouthpiece
Arachnophobia!—Goyco Upsets Odom Lopez Stops Valcarcel
By: George H. Hanson Jr., Esq.
Date:                       Friday, November 11, 2016
Venue:                   2300 Arena – Philadelphia, PA
Promoters:              GH3 Promotions & Victory Boxing Promotions
Ring Announcer:   Mark Fratto
Referee:                 Gary Rosato & Blair Talmadge
Photos:                   www.christoneyphotography.com
Besides his handlers and gym mates, nobody gave Philly super-middleweight Taneal "The Spider" Goyco (8 wins – 9 losses – 1 draw – 3 kos) a "snowball's chance in hell" of defeating the talented and hard-punching Jerry "King Son" Odom (14 wins – 2 losses – 1 draw – 13 kos) of Washington, D.C. Despite wins over two undefeated prospects and an upset victory over once-beaten highly-touted and gifted Dennis Hasson which garnered the Briscoe Award for "2014 Upset of the Year" – Goyco was still the underdog and Odom the prohibitive favorite long before the opening bell.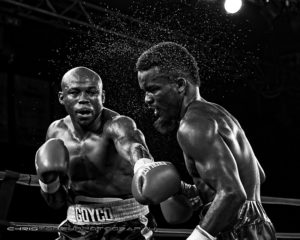 Goyco (L.) blasts Odom with a left.
For the past couple weeks Goyco honed his skills and refined his craft by serving as a sparring partner for former two-division world champion and future Hall of Famer—51 year-old Bernard "The Alien" Hopkin who is in preparation for his December 17th showdown with Joe Smith Jr. Most important, he spent countless hours at the Marian Anderson Recreation Center under the guidance of trainers Charles "Cornbread" Ramey and Rodney Rice perfecting his jab, uppercut and body attack. Goyco and his team were confident that Odom wasn't going to make it to the final bell of their scheduled eight-rounder. They weren't going to leave his fate in the hands of the judges.
Like a newlywed groom in the honeymoon suite, Odom came out at the opening bell hell-bent on a memorably performance—attempting to put Goyco to bed early. Odom pressed the action backing up his opponent—pinning him in his corner towards the end of the first round— unleashing a vicious combination that buckled Goyco's knees with referee Rosato watching attentively, seconds away from calling a halt as the bell concluded the round.
Odom "shot his load" in the second round by trading toe-to-toe with the Philadelphian who gave as much as he received, refusing to fall prey to the power-punching fighter. The tide turned in the third round as Goyco blanketed Odom, forcing him to fight on the inside, hitting him with some vicious uppercuts and body shots. It was a war of attrition as Goyco kept the same pace in the fourth round never letting Odom gain separation to unleash any big bombs.
It was apparent in the fifth round that Odom was in dire strait as Goyco rocked him with overhand rights and hooks forcing him to fall on his knee during a lull in the action. The gong sounded and Odom made it back to his corner appearing dejected and defeated. Referee Rosato and the ringside doctor made their way over to Odom's corner—the fight was over. Odom retired, seated on the stool – unable to answer the bell for the sixth round. Ramey and Rice were in Goyco's corner dancing in jubilation as though they were at a hoedown – doing a square dance. Goyco won by RTD 3:00 of round 5.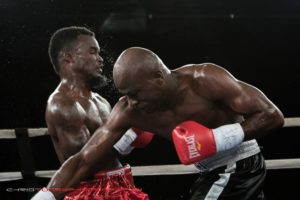 Goyco (R) landing the overhand right.
In another scheduled eight-rounder, welterweight Ed "Bad Boy" Brown (19 wins – 0 losses – 0 draws – 16 kos) of Chicago out boxed Albert Mensah (29 wins – 5 losses – 1 draw – 13 kos) of Accra, Ghana, winning a unanimous decision 80-72 twice and 79-73. The tall and rangy Brown controlled the action with his long jab and continuously landed a straight right which looked like a baseball pitcher throwing a fast-ball. It was an uneventful bout – a perfect cure for an insomniac. There were no knockdowns. Brown pitched a virtual shut-out and I was surprised that one judge gave Mensah a round.
In the main event, undefeated junior-featherweight Adam "Mantequilla" Lopez (15 wins – 0 losses – 1 draw – 7 kos) overshadowed by the epic battle between Goyco and Odom closed the show in fantastic fashion stopping Carlos Valcarcel (14 wins – 8 losses – 4 draws – 5 kos) of Miami Florida with a vicious left hook to the body at 1:42 of the final round of their scheduled eight-rounder. Valcarcel was counted out on the canvas by referee Rosato—writhing in pain unable to continue.
At the time of the stoppage Lopez had won all of the rounds on my scorecard by controlling the bout with his jab, occasionally going downstairs to the body. It was a far-cry from the frenetic pace witnessed in the Goyco-Odom encounter. But, nevertheless Lopez was in control by simply out-working Valcarcel who appeared to be one step behind his nemesis. Round after round Lopez dictated the pace using his jab – out-speeding and out-punching Valcarcel. All of the rounds were identical and it appeared that it would go to the scorecards. Thus, it was somewhat surprising when Lopez closed the show with one punch.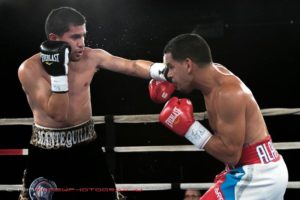 Lopez (L.) lands the stiff jab.
In an entertaining tactical six-round junior-welterweight bout, Kenneth "Bossman" Sims Jr. (9 wins – 0 losses – 0 draws – 3 kos) won a unanimous decision 60-54 on all scorecards against the game Jonathan "Dynamite" Dinong (5 wins – 1 loss – 0 draws – 4 kos) of Monterey Park, California. It was a chess match with the slick southpaw Sims beating Dinong to the punch and sharp-shooting from a distance. To his credit, Dinong who switched intermittently from orthodox to southpaw throughout the bout was competitive. He pressed the action and was trying to land an overhand left from the southpaw stance over Sims' low right jab. It was a simple case of Sims being the better boxer with faster hands and feet.
Philadelphia police officer and undefeated junior-featherweight Emmanuel "Major Pain" Folly (7 wins – 0 losses – 0 draws – 5 kos) made easy work of Tibor Nadori (9 wins – 6 losses – 1 draw – 4 kos) of Nagykanizsa, Hungary dropping him immediately after the opening bell of their scheduled four-rounder with a quick laser right to the ear. Nadori was up quickly and kept his distance as Folly worked behind a quick left jab. It just wasn't Nadori's night as Folly stabbed him with a stiff jab to the solar plexus reintroducing him to the canvas for the ten-count. Folly was declared the winner by knockout at 2:02 of the first round.
It is time for manager Cameron Dunkin to step-up the competition for undefeated Philly welterweight prospect Jaron "Boots" Ennis (6 wins – 0 losses – 0 draws – 5 kos). The nineteen year-old Phenom has blown through six opponents with relative ease. And tonight, Chris Alexander (4 wins – 2 losses – 0 draws – 3 kos) of Norfolk, Virginia was mere cannon-fodder for the supremely talented Ennis who toyed with him from the opening bell. It was target practice with Ennis sending Alexander to the canvas in the fourth round with a straight left from the southpaw stance—forcing him to quit on the stool—unwilling and unable to answer the bell for the fifth round of their scheduled six-rounder. Ennis was declared the winner by RTD 3:00 of the fourth round.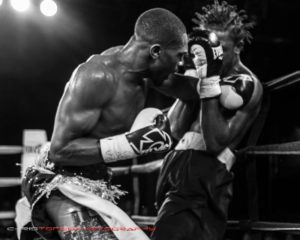 Ennis (L.) on the attack!
To call this fight a mismatch is an understatement. Ennis needs stiffer competition to reach his full potential. Ennis could fill in tomorrow night for WBC welterweight champion Danny "Swift" Garcia and he would be the favorite against Sammy Vargas. He is that good! A thoroughbred is ill-prepared to run in the Kentucky Derby by competing locally against donkeys.
In a six-round sparring session disguised as a professional boxing match, junior-middleweight Hurshidbek Normatov (2 wins – 0 losses – 0 draws – 1 ko) of Andijan, Uzbekistan now fighting out of Brooklyn, New York won a unanimous decision 60-54 on all three scorecard against Lenwood "Mr. Composure" Dozier (10 wins – 13 losses – 2 draws – 5 kos) of Suitland, Maryland. The tall southpaw Normatov advanced behind his jab as Dozier held his hands high flicking an occasional jab while moving around the ring. Normatov tried to make a fight of this lackluster affair but there is an old adage – "it takes two to tango." And it appeared that Dozier's wasn't about to engage in heated exchanges. Thus, he motored around the ring round after round not doing much, using his experience to evade punishment and survive to the final bell.
Undefeated Philadelphia lightweight Joshua "Hands of Stone" Jones (2 wins – 0 losses – 1 draw – 2 kos) pitched a virtual shut-out beating and busting up South Carolina's Corey Edwards (2 wins – 1 loss – 0 draws – 1 ko) for four rounds, winning a unanimous decision 40-36 twice and 39-37 – which left me flabbergasted that one of the judges scored a round for Edwards. The southpaw Jones dominated the action with his jab and landing wicked left uppercuts throughout the bout that had Edwards bleeding from the nose profusely. Jones resembled the great Kid Gavilan's whenever he landed that vicious left uppercut/bolo punch. By the fourth and final round Edwards was holding to survive and avoid losing by knockout. He was relieved when the final bell rang.
Super-middleweight Derrick "Take It to The Bank" Webster (20 wins – 1 loss – 0 draws – 10 kos) of Glassboro, New Jersey needed the opening round of the scheduled six-rounder to get a proper reading on the awkward and unpredictable Zoltan Sera (26 wins – 10 losses – 0 draws – 17 kos) of Bucharest, Hungary – who stormed out of his corner launching haymakers from a crouch as though he was in a barroom brawl. Webster kept his distance using his southpaw jab countering with straight lefts as Sera missed wildly hitting nothing but air.
Webster took command of the fight working behind his jab as Sera lunged and showboated by sticking his chin out beckoning the southpaw to hit him. Webster acquiesced to Sera's wishes and dropped him with a right hook in the fourth round. Sera made it to his feet before referee Talmadge tolled five and finished the round.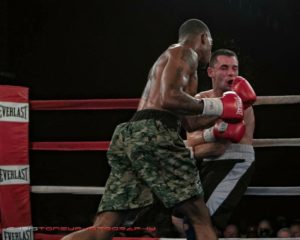 Webster attacking Sera.
Sera's face was bruised and battered as he answered the bell for the fifth round. Webster's jab and straight left had done much damage. Referee Talmadge penalized Sera a point for excessive holding. It would make no difference as Webster blasted Sera with a combination forcing Talmadge to call a halt to this one-sided somewhat entertaining bout at 1:28 of the round, declaring Webster the winner by technical knockout.
In the opening bout of the night undefeated bantamweight "Luscious" Leroy Davila (3 wins – 0 losses – 0 draws – 2 kos) of New Brunswick, New Jersey had his way with the unorthodox and winless Damon Simon (0 wins – 4 losses – 1 draw) of Beaumont Texas. The slick-boxing Davila peppered Simon from the southpaw stance with jabs and right hooks to the body, forcing Simon to switch intermittently from orthodox to southpaw. He could have squared up and switched to "north paw" – it would have made no difference as Davila was simply too technically savvy for his adversary.
Davila had Simon in dire strait in the third round of the scheduled four-rounder that two of the judges scored it a 10-8 round. For almost thirty seconds Davila blasted Simon with every conceivable punch. The fight was almost over but somehow Simon was able to grab Davila and hold on tightly surviving the round – making it to the fourth and final stanza in which he utilized the same tactics to survive another barrage. No surprise that Davila won a unanimous decision 40-35 twice and 40-36.
With another professional boxing show at Harrah's Philadelphia Casino & Racetrack in Chester, Pennsylvania—I doubt if tonight's head-count exceeded five hundred. Nevertheless, fans were treated to one of the most epic battles of the year as Goyco and Odom tore the ring down for five action-packed rounds—keeping everyone on the edge of their seats. There is little doubt that Goyco will garner his second Briscoe Award—"2016 Upset of the Year." Now that he has recorded his fourth upset it is safe to conclude that many super-middleweights will develop arachnophobia!
Continue to support the sweet science, and remember, always carry your mouthpiece!
ghanson3@Hotmail